This article is more than 1 year old
Qualcomm flashes Snapdragon 820's bits again – this time it's DSP
Welcome to the 'low power island'
Qualcomm has lifted the veil a little further from its upcoming Snapdragon 820 mobile system-on-chip, sharing details of its new digital signal processor (DSP).
The chipmaker has been dribbling out information about the Snapdragon 820 ahead of its launch, having already dropped a few tidbits about its graphics processing unit (GPU) and its camera circuitry. The DSP details came as the Hot Chips conference kicked off in Cupertino this week.
The new silicon, dubbed the Hexagon 680, is the next iteration of the Hexagon DSP technology found inside modern Qualcomm SoCs, and is used to offload multimedia playback and other tasks from the CPU cores.
This time around, Qualcomm says it's delivering a one-two punch of improved horsepower and better battery consumption.
First, it has added vector processing instructions to the chip, which it's calling Hexagon Vector eXtensions (HVX). Essentially the same idea as the vector instructions supported by modern GPUs, these can help speed repetitive operations like image processing while, once again, drawing less power.
Qualcomm says HVX lets the 680 adaptively improve the quality of low-light video on the fly "several times faster" than previous versions, while using only 10 per cent of the juice.
The other new feature of the 680 is that Qualcomm has actually split off a second set of DSP circuitry just for handling sensor data. It's calling this the "low power island," and the idea is that it will improve battery life by taking over always-on tasks like activity or step counters and sensor-assisted location positioning.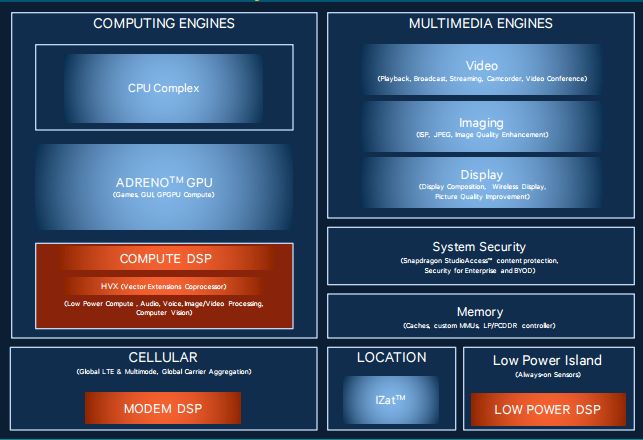 Qualcomm's Snapdragon 820 incorporates multiple CPU, GPU, DSP, and media processing units
The upgrades follow a trend of mobile SoC makers integrating multiple low-power components into their offerings to reduce the processing burden on the main CPU cores. Qualcomm top competitor Samsung, for example, uses ARM Neon components in its Exynos line to handle signal processing.
Qualcomm's previous Snapdragon 810 SoC caused some kerfuffle, however, when Samsung dropped the chip from its flagship Galaxy S6 handset, reportedly due to overheating issues.
A specific launch date for the Snapdragon 820 has not been announced, but Qualcomm says we should start seeing it in devices in the first half of the coming year, which leads us to suspect we will be hearing a lot about this chip at next year's Mobile World Congress. ®