This article is more than 1 year old
Nimble Storage revenues soar as mainstream rivals experience droop
Losses still increasing, however
Nimble Storage had another successful quarter in terms of revenue, beating its own estimates: the figure of $80.1m in its second fiscal 2016 quarter was 49 per cent higher than a year ago, and 12 per cent more than the previous quarter.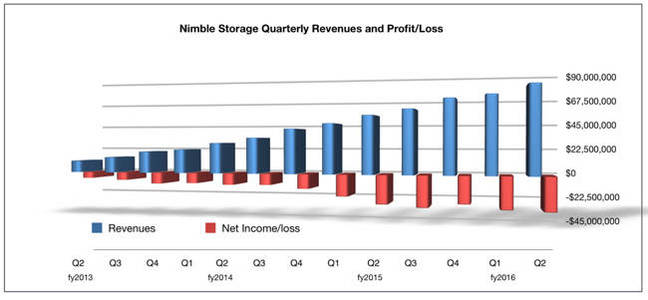 Nimble generated losses of $30.1m, 15 per cent worse than the $26.1m loss reported a year ago, and a smidge worse than the first fiscal 2016 quarter's $29m.
There's no sign of a profit yet and no evidence that losses are reducing, although as a percentage of revenue they are on a downward trend.
The company sells its hybrid flash/disk array and CASL software, branded as its Adaptive Flash Platform, as a better and more cost-efficient networked storage array than mainstream array vendors, such as Dell, EMC, HDS, HP, IBM, NetApp and Oracle (Axiom).
Its revenues are growing faster than its rivals' and investors are happy enough, as the share price history chart from Yahoo! shows below.
Yes, the share price has dropped substantially from its post-IPO peak, but it's been in a $20-$31 band since May 2014 and is currently at $23.83.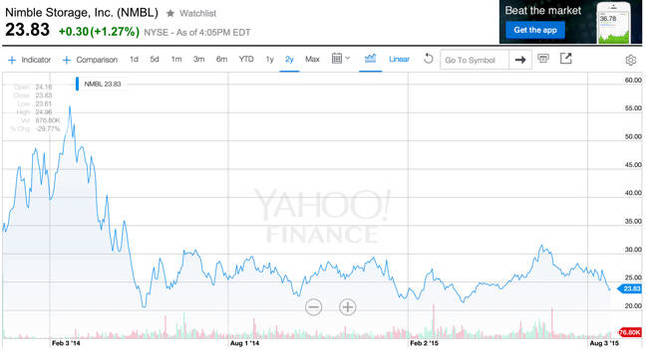 Can its revenue growth carry on? CEO Suresh Vasudevan thinks so. He stated: "As the storage industry continues to experience disruption from architectural shifts, our core belief that only the Adaptive Flash Platform can consolidate and dynamically optimise every enterprise application running across the data centre remains our guiding principle. The second quarter provided clear evidence of our continuing momentum. We added 690 new customers, a new quarterly record." So there.