Windows 10 now on 75 million devices, says Microsoft
A popular giveaway, but no word on the number of failed installs
Microsoft's corporate veep Yusuf Mehdi reports that Windows 10 is now on 75 million devices, following its general availability four weeks ago.
This suggests that Windows 10 is being installed faster than any previous version. Exact figures are hard to come by, but Microsoft took around four months to sell 90 million Windows 7 licences, according to then CFO Peter Klein speaking at a Morgan Klein conference in 2010.
And Windows 8 sold 100 million licences in around 6 months, figures which disguise its unpopularity.
Windows 10 is a free upgrade though, making these comparisons difficult. Microsoft has also pushed Windows 10 hard. Other than on corporate installs, most users of compatible PCs have been nagged to upgrade via Windows update advertisements.
Presumably the figures would be higher still if more of the attempts to upgrade had been succeeded. Firsthand experience suggests a significant proportion of failures via Windows Update, most recently a freshly purchased Toshiba Portege Z30, listed by the vendor as Windows 10 compatible, on which repeated attempts to upgrade lead to the sad message "Windows 10 couldn't be installed."
There is often a way round it, perhaps using Microsoft's Media Creation Tool, but for many the upgrade process has not been smooth.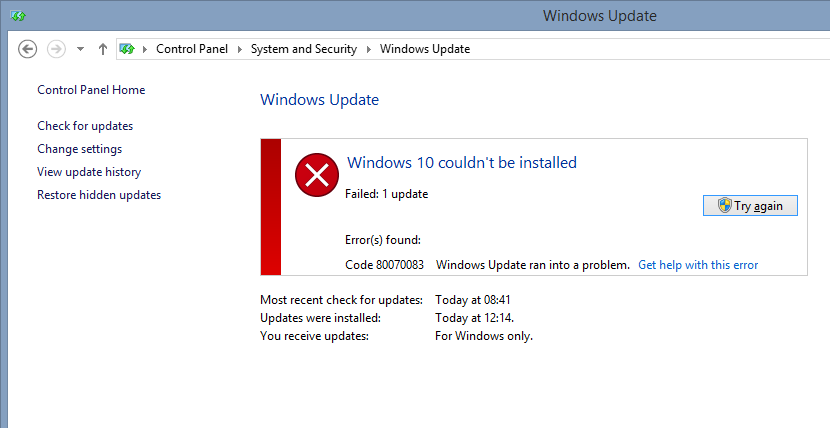 Not all Windows 10 upgrade attempts succeed
Some early upgraders are also finding troublesome bugs, such as missing Start menu entries, or the mysterious Runtime Broker process grabbing huge amounts of RAM and CPU.
Still, performing in-place upgrades on millions of PCs in varying states of readiness was always going to be a challenge. Mehdi notes that over 90,000 unique models have been successfully upgraded, some manufactured as long ago as 2007, and the buzz around Windows 10 is more favourable than it was for Windows 8.
Developers will have their eye on one statistic in particular, which is that Windows Store for Windows 10 "has seen 6x more app downloads per device than Windows 8".
Windows 7 users can't access the Store or run its universal apps, and the appearance of compelling Store apps would be a strong incentive to upgrade. These apps can also be adapted to run on Windows 10 Mobile, so a successful Windows 10 Store would benefit Windows phones as well.®