This article is more than 1 year old
Nano – meet her: AMD's Radeon R9 4K graphics card for non-totally bonkers gamers, people
Perfect size for mini-ITX mobos and small cases
Pics AMD will today launch the Radeon R9 Nano, a beefy graphics card designed to run comfortably inside tight spaces.
It's aimed at people who want to build small-case PCs fitted with mini-ITX motherboards and relatively dinky power supplies: such setups need a GPU card that can do as much as possible without overloading the PSU or kicking out too much heat for the confined space.
If you want to overclock your graphics card, or need extra grunt, AMD suggests you get an R9 Fury X because the Nano is not for you; it is deliberately under-clocked.
That's not to say the Nano is an entry-level bit of kit: it will set you back $649 (£420). It features AMD's latest graphics processor microarchitecture, Fiji, which arrived in June 2015. The 28nm silicon uses what AMD calls High Bandwidth Memory [PDF], a technology that stacks DRAM directly next to the GPU cores in the same chip package.
This tight coupling allows the graphics processor to access the HBM far faster than external GDDR5 memory, while saving space and squeezing more bandwidth per watt out of the electronics.
Earlier this week, El Reg interviewed one of the key architects of the new Fiji family of chips, so keep your eyes peeled for more on that front.
Back to the Nano: it can perform 8.19 trillion single-precision floating-point calculations a second using 64 compute units and 4,096 stream processors. It has 4GB of HBM with a 4096-bit bus that shifts 512GB/s, and supports DirectX 12, OpenGL 4.5, Vulkan, and Mantle. It has three DisplayPorts and one HDMI port that output 4K video.
Its engine clock can run up to 1GHz, although it usually runs at about 850-950MHz when playing games, we're told.
The clock is adjusted every microsecond automatically to match the workload: the idea is to run the chip at 75C during normal operation. The hardware starts hitting the brakes and throttling activity if it reaches 85C.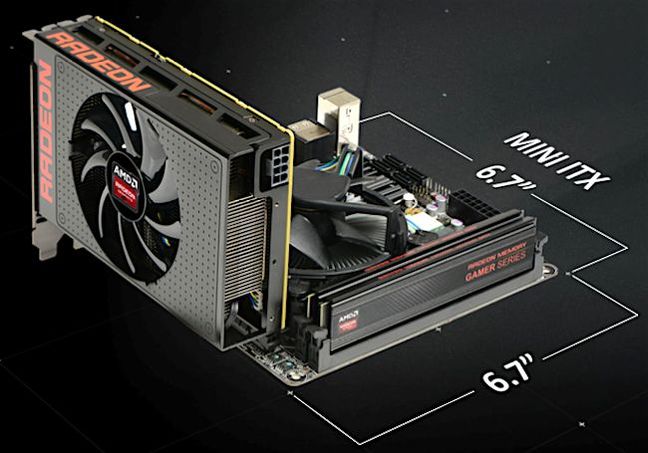 How the Nano will fit on your mini-ITX board
AMD says the six-inch-long PCIe 3.0 card will consume 175W when in normal use playing games, and needs a single 8-pin power. Its heatsink runs horizontally to rush hot air out of the way: its designers didn't want vertical fins as they reckon those end up blowing half the warm air back down on the processor.
Its fan typically runs at 42dbA, including when gaming, we're told: that's about what you'd expect as background noise at night in a suburban street, not that gamers will notice while blasting the ever-loving crap out of each other and wearing headphones.
The point is that the fan and cooling hardware is designed to match the card's use. The Nano is positioned for techies who want a Fiji GPU, and all of its eight billion transistor gates, but want to squeeze it into a box that has limited space to dissipate heat and has a limited power supply. It's for case modders, gamers-who-aren't-ready-to-start-overclocking, and so on.
"It's so you can put one in a small box and make it not sound like a vacuum cleaner," one AMD exec told The Register.
AMD thinks you'll also want to put one of these in your living room media PC, but that all depends on whether or not you want to drop a few hundred quid on just the graphics card for such a setup. The chip biz is keen to stress the card has a metal shroud and black matte circuit board, should that change your mind.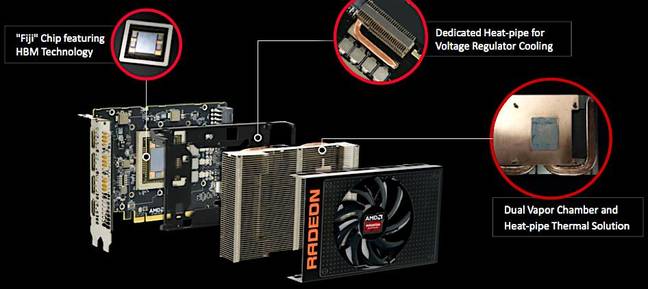 How the Nano is constructed ... click to enlarge
Essentially, the Nano costs the same as the Fury X, has slightly less performance, and has lower power demands (175W versus 275W). Pretty simple. AMD claims the R9 Nano beats the Nvidia GTX 970 mini-ITX card when measuring in-game frame-rates at 4K resolutions: specifically The Witcher 3: Wild Hunt, Middle-earth: Shadow of Mordor, Grand Theft Auto V, Far Cry 4, Crysis 3, and Battlefield 4.
"The Fury X has 10 per cent extra performance, but you've got to pay a 50 per cent power penalty," Victor Camardo, product manager for Radeon graphics at AMD, told El Reg.
"Want to overclock a Nano? That's basically the Fury X. If you want the most power efficient and compact card, get the Nano. If you want to push Fiji to the limit, get the Fury X.
"A 10 per cent performance difference is the difference between playing a game at 33 and 30 frames-per-second at 4K. You've got to increase the card's power for an extra three frames a second."
The Nano is due to go on sale on September 10. It will complement the R9 Fury and the R9 Fury X that hit the market in July and June 2015, and cost $549 and $649, respectively. Like the Nano, the Fury and Fury X use Fiji, aka GCN 1.2. The Furies are aimed at overclockers and other hardcore gamers. ®