ClearSky: Keeping your premises free of unwanted clouds
Allowing you to forklift your silos the hell out of Dodge
---
Interview Dump your on-premises SAN and fly to the cloud via an all-flash on-ramp: that's the message from startup ClearSky Data. Enterprises should access all their data, throughout its lifecycle, via a fully-managed service and, implicitly, hit the eject button on their on-premises data-storage equipment.
ClearSky was founded by CEO Ellen Rubin and CTO Lazarus (Laz) Vekiarides in 2014 – this is an early-stage startup. It's funded by a $12m A-round, led by General Catalyst Partners and Highland Capital Partners.
ClearSky Data is using the cash "for its initial wave of hires in storage, networking, security and virtualisation, and to kick-start product development as the company gains traction in stealth mode".
Customers access its Global Storage Network via an on-premises, all-flash edge device that functions as a local cache and cloud gateway. So far, so Nasuni, Avere or Ctera, as we might say.
But ClearSky's GSN comprises regional Points of Presence (PoPs) in major (US) metro areas, and within 120 miles of a customer's data centre. Data access operates with Service Level Agreements and the round-trip latency to/from a PoP is less than two milliseconds.
ClearSky said its "Smart Tiered Caching technology automatically distributes data across a network of geographically distributed cache layers with built-in redundancy in order to provide optimal performance based on evolving usage requirements and customer policies." What does that mean?
There are three basic tiers of storage, although users see a single storage pool:
Hot data: cached at the edge next to customer applications
Warm data: cached in a ClearSky PoP within 120 miles of the customer
All data: protected with multiple copies in the ClearSky Backing Cloud
Users' servers and applications talk to storage via vSphere VVOLs in order to "set storage policies, provision and add capacity on-demand, and access system alerts and updates 24/7/365".
ESG founder and senior analyst Steve Duplessie provides a canned quote: "ClearSky is the first company to truly live up to the storage service provider dream; offering true primary, transactional-level storage services with all the benefits of cloud economics and management. It's been a long time coming."
ClearSky co-founder and CEO Ellen Rubin engaged bombastic mode and said: "Our global storage network will forever change the way IT thinks about storage." That's no small claim, Ellen.
We asked Laz, ClearSky Data's CTO, some questions about the offering and constructed this diagram from our sense of his answers: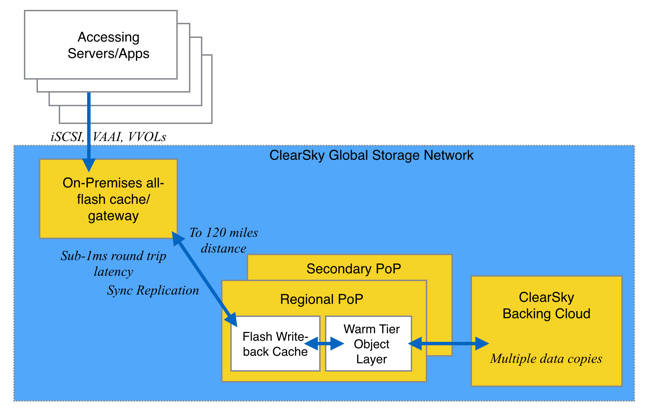 The questions and Laz' answers below should explain the boxes in the diagram and how they are linked.