This article is more than 1 year old
Roll up, roll up, as LG launches stealthy Bluetooth keyboard
Pack up your troubles in your old kit bag, and smuggle them on holiday
A keyboard which rolls up four rows of almost full-sized keys into a stick has been launched by LG at the IFA trade show.
The tablet market might be in the doldrums, but LG sees tablet accessories as a way to make money out of it. It almost had a good name – "LG's Rolly Keyboard" – but then LG went and ruined it with the moniker "model KBB-700".
The 17mm key pitch is pretty much the same as the 18mm key pitch found on most desktop keyboards. Made of impact-resistant and durable polycarbonate and ABS plastic, typing on the keyboard offers the same tactile feedback as a desktop keyboard.
Arms fold out to support smartphones as well as tablets of up to 10 inches in an upright position.
White on black keys give high contrast: as your eyesight starts to go, white bleeds into black. Black text on white keys shrinks before failing eyes.
Unfolding the Rolly Keyboard enables Bluetooth 3.0 auto pairing. You can connect two different devices at the same time, toggling between the two with a key press. A single AAA battery powers the keyboard for up to three months of average use.
"[It] is just one of the many premium input devices we'll be unveiling in the coming months as we expand our accessories offerings," said Seo Young-jae, veep of innovative personal devices at LG. "The goal was to create a product that could add more value to LG smartphones and tablets, at the same time offering a unique design proposition that hadn't been explored before."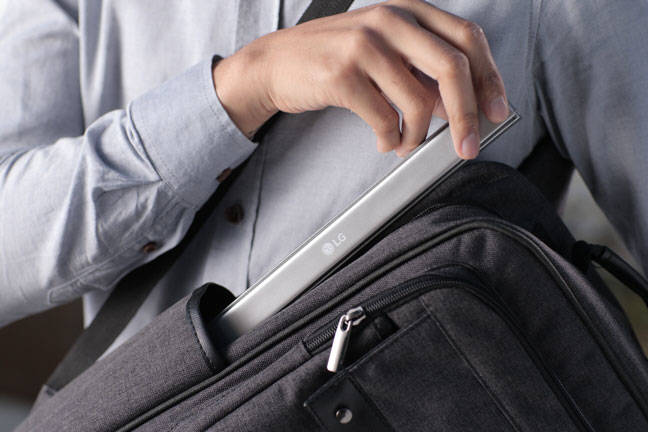 It goes on sale in the US in September, with key markets in Europe, Latin America and Asia in the fourth quarter. We'll find out what it costs then. ®