Win10 Insider build 10532: Avoid if you run Chrome 64-bit
A few tweaks, but what is MS doing about top feature requests and bug reports?
---
Microsoft has released Build 10532 of Windows 10 as an "Insider" preview.
Windows Insider is an opt-in public preview which enables Microsoft to test updates with a sizeable user base before general release.
The latest build is unexciting, with tweaks to menu styles to make them more consistent and a new sharing feature in the feedback app, according to Microsoft's Gabe Aul.
There are also some new issues, including Google Chrome 64-bit crashing on launch (a problem first seen in the previous Insider build, and being addressed by Google), and Windows Hello sign-on with face recognition not working with some devices.
These previews are focused on feature updates rather than bug fixes, but it is still puzzling why Microsoft does not report on progress concerning major bugs in Windows 10, such as missing Start menu entries. Users are left to try new builds and experiment to discover if anything is fixed.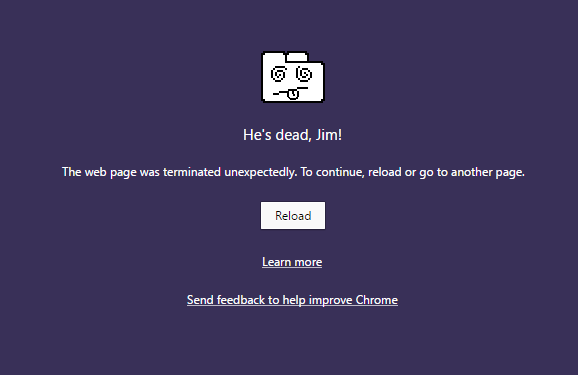 Google Chrome 64-bit does not work in the latest Windows 10 Insider build
That said, looking at the most upvoted feedback via Microsoft's app suggests that Windows 10 is working well for most users.
The top issue is a feature request for a unified inbox in the Mail app, followed by the annoyance that the Edge browser always downloads to the default folder rather than letting users choose.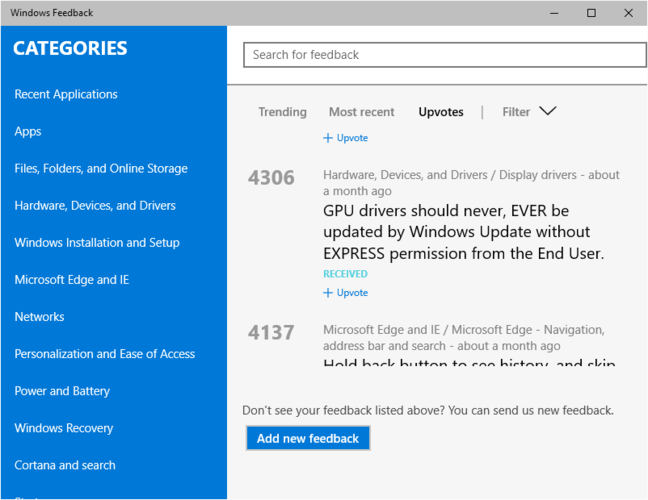 Don't break our GPU drivers plead users
Other top-ten requests include that "GPU drivers should never, EVER be updates by Windows Update without EXPRESS permission from the end user", and a request for the return of OneDrive placeholders, which lets you download files from Microsoft's cloud on demand.
It is fair to say, then, that the reported new features in the latest build do little to address what users are most concerned about, though no doubt the company is working on some of these issues.
Nor is Microsoft making changes to its privacy settings, despite public concern over the amount of chatter between a Windows 10 installation and Microsoft's servers.
Some of these concerns are real, while other rumours flying round the internet are wild and unfounded (nothing new there).
The company is in a tough spot here, with the demands of personalisation and cloud synchronization – generally popular features – in conflict with the instinct to keep personal data out of the hands of giant corporations.
The detail of what Microsoft does with your data is here and you will find similar statements from the likes of Facebook, Google and Apple. Microsoft could do better, though, with details like diagnostic and usage data sent to its servers set to "full" by default in Windows 10.
Corporates can understand and manage these settings, but consumers rarely change defaults. This data, of course, is only used "to repair and improve Microsoft products and services, or third-party software and hardware designed for use with Microsoft products and services", according to online help, but it would make sense to make this opt-in rather than opt-out.
Users might feel better about the data Microsoft is hoovering up if the company were more open about the process in return. ®