This article is more than 1 year old
Storage boosters: Six mSATA format SSDs on test
Back-to-school hand-me-down upgrade time
Crucial MX200 (250GB)

If proof were needed that the mSATA format isn't to disappear any time soon, it comes from the fact that Crucial has launched an mSATA version of its latest performance drive, the MX200 (which we reviewed here).
The whole MX200 range uses a Marvell 88SS9189 controller, which looks after Micron's 16mn 128Gbit MLC NAND. The 250GB (and 500GB) drive also has 512MB of DDR3-1600 cache. Unlike the 2.5in version, the mSATA line-up tops out at 500GB, with a 250GB drive the only other option. Both have Crucial's Dynamic Write Acceleration technology enabled.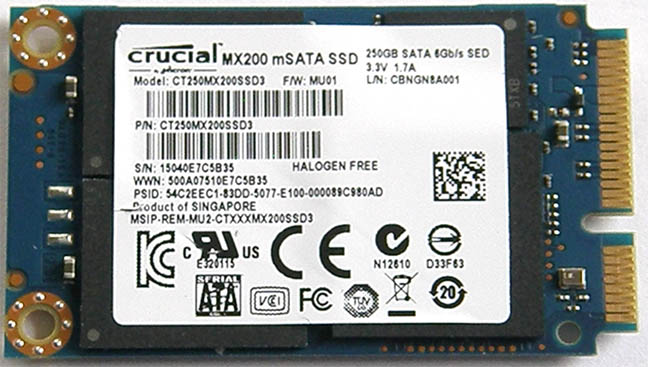 Performance-wise the mSATA drives have the same Sequential figure claims as their bigger 2.5in siblings: namely, 555MB/s Reads and 500MB/s Write's for both capacities. Both these figures were confirmed by testing the 250GB drive with the ATTO benchmark, which produced a Read score of 560MB/s and Writes of 512MB/s.
The endurance figure quoted for the 250GB drive is 80TB TBW, which works out at 43GB per day for five years. Unfortunately, Crucial's warranty only lasts for three. Still, it performs well and has a nice low price tag – what's not to like?
Price
£77 (250GB), £150 (500GB)
More info
Crucial
Integral MO-300 (256GB)

You may never have heard the name before but Integral has been around since the late 1980s and is one of the few UK SSD manufacturers with design, R&D and testing all based in the UK. It offers a wide range of flash-based products, including some seriously hardware-encrypted SSDs.
The MO-300 is the company's desktop/laptop mSATA range and comes in a variety of capacities from 32GB up to 512GB. At its heart is a Phison PS3108-S8 8-channel controller, which looks after IMFT 16nm Asynchronous MLC NAND. For the 256GB drive, there are four 64GB packages of NAND together with a Nanya cache chip on the PCB.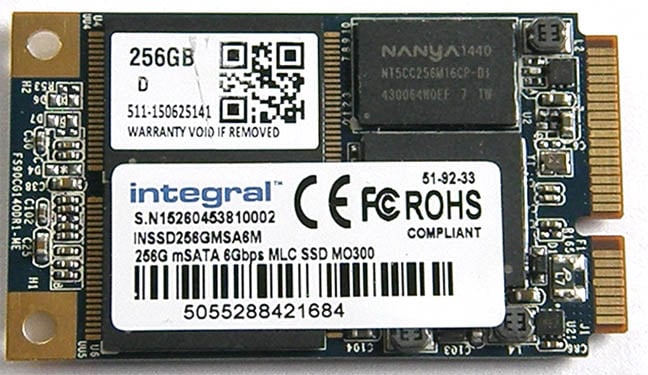 Integral quotes performance figures for the 256GB model of up to 550MB/s Reads and 530MB/s for Writes. For Reads, this proved to be bang on the mark, as the drive produced a score of 551MB/s. However, the test drive's Write score was a little down on the official figure producing a result of 504MB/s. While its Sequential performance is pretty good, its handling of the small bitty files of everyday use isn't as strong, as can be seem from the 4K benchmark scores in CrystalDiskMark.
Integral told us that based on its flash vendor's claims, it reckons the MO-300 has a remarkable 730TB TBW endurance. This could well be true or some applied mathematics. Still, the 256GB drive is backed with a three-year warranty. It has a strong Sequential performance and is not too costly, either.
Price
£26 (32GB), £36 (64GB), £43 (128GB), £88 (256GB), £162 (512GB)
More info
Integral