This article is more than 1 year old
Storage boosters: Six mSATA format SSDs on test
Back-to-school hand-me-down upgrade time
Intel 530 (180GB)

Intel's 530 series has been around for an age (2013 to be exact) and is, in fact the last drive series to date that Intel has offered in an mSATA format, as well as the standard 2.5in drive. Give its age, the loan stock is thin on the ground and so we had to make do with a 180GB model, courtesy of Overclockers UK.
With the 530 and a few other drives, Intel used a third-party controller instead of one of its own. In this case, a SandForce SF-2281 (now owned by Seagate) but with Intel involved in writing the firmware. The NAND, however, is the company's own 20nm MLC. As this is 64Gbit NAND, the flagship of the mSATA range is just 240GB, as it has only room on the PCB for 4 packages of NAND.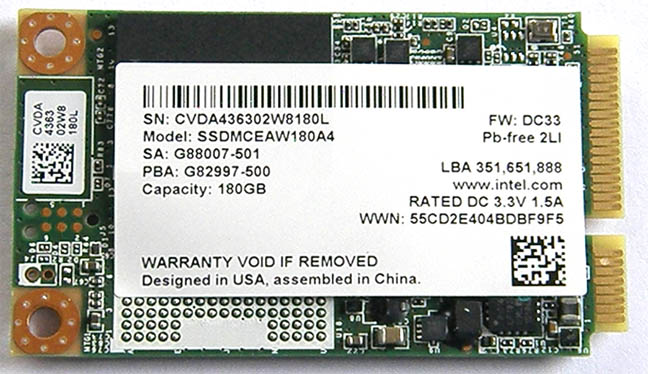 Intel quotes figures of 540MB/s and 490MB/s for Sequential Read and Writes respectively, and these were confirmed by testing with ATTO benchmark. All in all, a rather good performance for a drive of the 530's age. Endurance for the drive is 37TB TBW, which works out around 20GB writes a day for the length of the 5-year warranty.
Despite its age, it remains a respectable performer, with the benefit of Intel's bomb-proof reliability, but it is pricey.
Price
£53 (80GB), £65 (120GB), £90 (180GB), £130 (240GB)
More info
Intel
Kingston SSDNOW mS200 (240GB)

Kingston's SSDNOW mS200 is another drive to make use of the SandForce SF2281 controller but this time pairing it with Micron's 20nm MLC NAND; the 240GB drive uses four packages – two per side of the PCB.
When tested with the ATTO benchmark, the drive produced Sequential Read/Write figures that were in the ballpark of the official ones; 535MB/s for Reads and 533MB/s Writes. Kingston claims 540MB/s and 530MB/s, respectively. Its Random 4k Write performance is pretty strong at 85MB/s but the same cannot be said for the Random 4k Read performance, which is a pretty poor 17MB/s, as measured by the CrystalDiskMark 4k benchmark.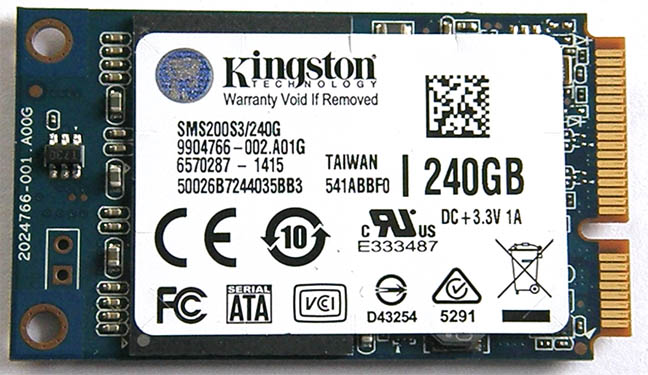 As for endurance, Kingston quotes an astonishing 585TB TBW endurance for the 240GB drive and backs it with a three-year warranty, although the 30GB drive gets just two years. It's a tad expensive, but it does have amazing endurance – shame the warranty doesn't last as long as those claims, though.
Price
£28 (30GB), £35 (60GB), £57 (120GB), £120 (240GB), £273 (480GB)
More info
Kingston