This article is more than 1 year old
Storage boosters: Six mSATA format SSDs on test
Back-to-school hand-me-down upgrade time
Samsung 850 EVO (250GB)

When the 850 EVO was launched, an mSATA version was nowhere to be seen. But now Samsung has rolled it out, including – as with the previous 840 EVO mSATA range – a flagship 1TB model. This makes it the largest capacity mSATA drive currently available.
Also, the 850 EVO is the most advanced drive in this little round-up, due to the fact it uses the latest NAND technology: 3D Vertical NAND or, to be more precise, the TLC version of V-NAND.
The mSATA drives are very much the same as their 2.5in brethren. Samsung's own dual-core MGX controller (the 1TB drive uses the older 3-core MEX controller) and, of course, the company's own 32-cell layered 40nm 128Gbit TLC V-NAND.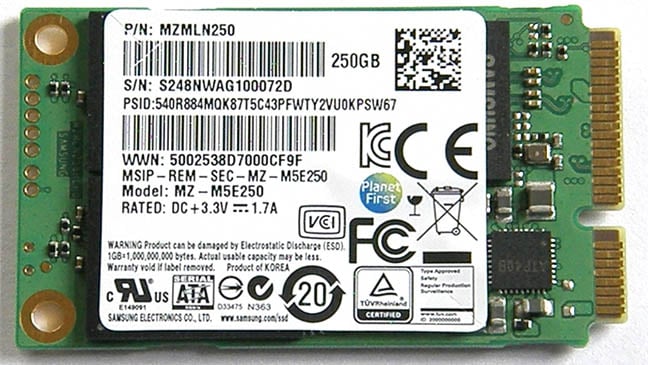 The 250GB mSATA drive uses four 64GB NAND packages to reach its capacity and these are joined on the PCB by 512MB of LPDDR3 cache. The quoted performance for the drive is 540MB/s for Sequential Reads and 520MB/s for Writes. My review drive had no trouble reaching the Read speed but struggled to get anywhere near the Write speed, topping out at 463MB/s.
The TDW endurance for the 850 EVO is quoted as 75TB or 41GB/day (120GB/250GB) and 150TB or 82GB/day for the 500GB and 1TB models. All models are backed by a five-year warranty.
If, for some reason, you want huge amounts of capacity in the mSATA format, it's the only game in town.
Price
£60 (120GB), £97 (250GB), £173 (500GB), £339 (1TB)
More info
Samsung
Transcend MSA370 (256GB)

Transcend may not be the first brand that springs to mind when thinking of an SSD, but the company has a range of drives in 2.5in, M.2 SATA and mSATA formats. The current flagship of the range is the MSA370. Transcend has covered all the bases with the 370, as it comes in a wide range of capacities from 16GB all the way up to 512GB.
The drive uses a Transcend TS6500 four-channel controller, which is a rebadged Silicon Motion SM2246EN chip, using Transcend's own firmware and Micron 20nm 128Gbit MLC synchronous NAND. The 256GB mSATA drive uses four 64GB NAND packages to get its capacity.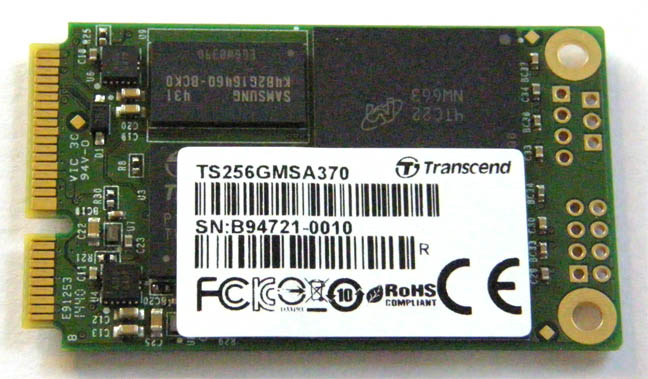 Read/Write performance for the 256GB drive is quoted at 570MB/s Read and 310MB/s Writes. So while the Read figure is pretty impressive, the Write figure is hardly setting the world on fire. Testing the drive with the ATTO benchmark I got a Read score of 559MB/s, which is a fair bit short of the official figure, while the Write score was bang on at 315MB/s. The Write performance is pretty consistent too, as it scored 314MB/s in CrystalDiskMark's Sequential Write test.
Transcend quotes a 280TB TBW endurance figure for the drive and it's covered by a three-year warranty. Not a bad all-round drive, with good Read performance and a reasonable price.
Price
£20 (16GB), £29 (32GB), £37 (64GB), £55 (128GB), £98 (256GB), £202 (512GB)
More info
Transcend