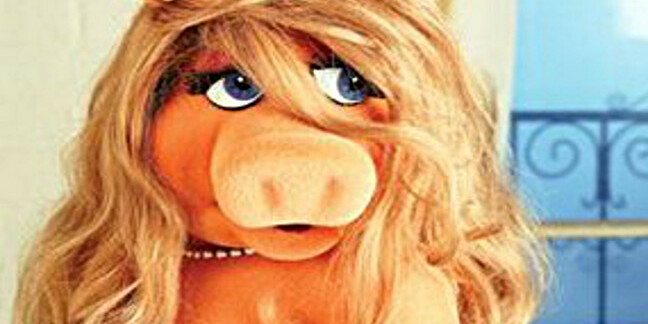 It's like looking at a drawing of an iceberg when you know the bulk of it is under water; Violin Memory's revenues and net income I mean. Look at all that red ink below the profit waterline!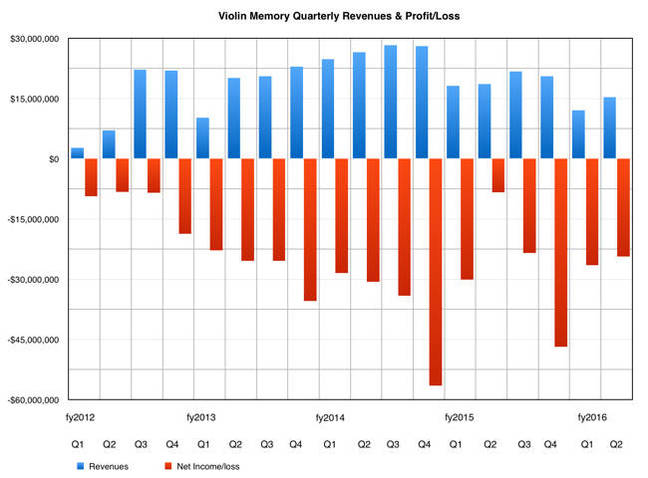 Violin Memory's revenue and net income history
In its latest, second, fiscal 2016 quarter Violin's revenues fell to $15.3m, down 18 per cent on the $18.6m earned a year ago. Some consolation was found in the sequential rise of 26.4 per cent from the low, low $12.1m of the prior quarter, as Said Ouissal's sales force picked up held back order baggage and began matching forward.
Now the worse news; there was a net loss of $24.4m in this second quarter, compared with one of $8.4m a year ago; that is, wait for it, 190 per cent worse.
Again, sequentially, there was some lipstick on this pig, with the previous quarter's loss of $26.5m improving eight per cent. Not much lipstick really.
What did the company have to say about this? Naturally CEO Kevin DeNuccio concentrated more on future bacon than on the current continuing loss-making and revenue fall, pointing to the sequential revenue rise and other signs of spring in this wintry set of numbers.
"With renewed growth in the second quarter," he said, "we believe the company is now on the other side of [our] transitional challenges and we're looking forward to increasing our momentum in the coming quarters."
He said an unfortunate circumstance affected the results; revenue was "slightly below the low end of our guidance range. Related to this, during the quarter, we financed a large cloud deployment that caused us to recognise the associated revenue over time, which if fully recognised within the quarter would have resulted in our top-line revenue being within our guidance range".
And the signs of growth? Well, in addition to "substantial sequential revenue growth, other leading business indicators showed strong quarter-on-quarter improvement", he said.
"Bookings were up 67 per cent sequentially while the pipeline for our new flash storage platform or FSP increased more than 2.5 times. FSP revenue grew 83 per cent sequentially; it is now fully driving our top-line growth and the future of the Company."
Expense control was good with Violin having the "lowest quarterly level of expenses we have achieved since going public".
But sales didn't do as well as it might have. "We continue to see some delays in closing transactions due to extended customer testing," added DeNuccio.
He hopes things will pick up, and believes we can "grow bookings and revenue again by more than 20 per cent quarter-on-quarter. We also anticipate continued growth over the next several quarters, fueled by the new flash storage platform and the beginning of regular repeat purchases by our early FSP customers".
DeNuccio said profitability was visible, talking about the expense control moving "our projected break-even point to down to less than $40m of revenue on a quarterly basis for the first time. With our strong cash balance of $120m, we intend to manage through our revenue recovery without the need for additional capital".
That's five quarters at, say, 20 per cent quarter-on-quarter revenue growth, meaning break-even by November 2016 or Q3 fiscal 2017. DeNuccio said he thought break-even is "somewhere between three to six quarters from now ... we don't think it's going to kind of be a linear growth of 20 per cent a quarter or something like that; we think there will be a step up. And that's what we can't really judge at this point because the deals are so big and lumpy".
The lumpiness was illustrated by one large deal this quarter representing around 20 per cent of Violin's revenue, meaning around $3m, and involving EMC VMAX replacement by a large retail organisation. Another one of those and the picture would have looked much better.
He said the sales organisation had been expanded, ten heads have been added for example, and we "anticipate our sales productivity to improve quarter-on-quarter going forward".
DeNuccio said the sales funnel looked good: "We have twice the pipeline that we had in Q2 going into Q3, that we think we can close."
Nevertheless analyst Alex Kurtz from Sterne, Agee (aware of the results causing Violin's share price to fall) asked the obvious company sale question in the earnings call: "How is the board thinking about strategic options for the company beyond just pursuing the current strategy?"
DeNuccio said: "We feel, given the momentum in the business and the pipeline in particular, that it's better to continue to drive the sales of the platform and get it established and get the reference base into the product line and continue to evaluate its strategic options as we go through that."
The shares are now priced at $2.33, up from a low of $1.88 on 24 August; that's good news. The low-hanging flash array fruit days are long gone and Violin has to fight hard for every enterprise flash sale dollar. However, it has picked itself up off the floor and is up and fighting.
A point to note; HP, Kaminario, Dell and Tegile all now have lower cost flash arrays, which they are selling to enterprises. We expect the other flash array vendors to follow them into the sub-$2/GB raw and sub-$1/GB effective pricing area.
Tegile for example, says it has reached the sub-$0.50/GB effective pricing area. This will increase the competitive pressure on Violin.
El Reg expects a Violin hardware refresh to occur by mid-2016 which will help accelerate its recovery from being a water-logged hulk to a flash-fuelled racer, if you will excuse our metaphorical excess. ®
Sponsored: Webcast: Ransomware has gone nuclear