Hollywood gold
Pryor himself later said of the incident: "I woke up in an ambulance, surrounded by nothing but white people staring at me. I said, 'Ain't this a bitch? I done died and wound up in the wrong muthafucking heaven'." But the matter made his own jokes about boxer Leon Spinks – who'd been busted with a tiny amount of cocaine – ring a little hollow…
After a "final stand-up performance" in 1982, Pryor cleaned up his act a little and within a year had returned to the comedy stage, with a self-directed, live-in-concert movie and album – the hilarious Richard Pryor Here and Now.
It was just after this that he also, bizarrely, tried to set up a children's TV show. One commentator asked: "What's he gonna call it, 'Watch With Motherf—er'?"
The puppet-dominated Pryor's Place was actually free of swear words and it did actually run on CBS television as a sort of ghetto Sesame Street. The programme was, however, cancelled just a few weeks after its first episode was aired.
Pryor wasn't too heartbroken over the failure of his kids' show, for he'd just signed a five-year contract with Columbia Pictures, a contract worth over $40m. The film roles, and films, that followed were more profitable – and, it has to be said, more predictable: Superman III (1983), Brewster's Millions (1985), Moving (1988) and See No Evil, Hear No Evil (1989).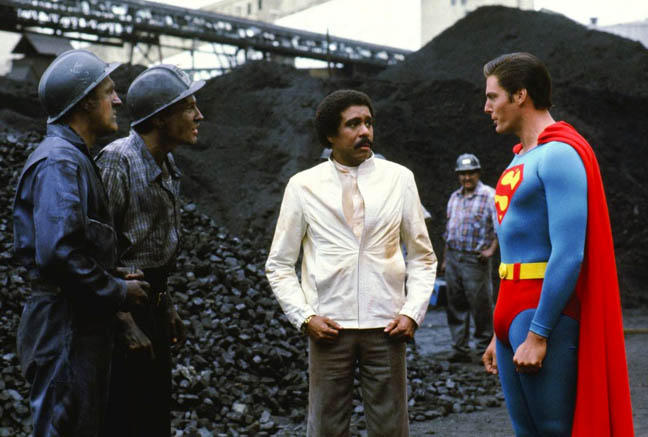 Man and Superman: Pryor (as Gus Gorman) teams up with Christopher Reeve in Superman III. Source: Warner Bros
His own debut as a feature film writer-director, the rougher, tougher Jo Jo Dancer, Your Life Is Calling (1986) did garner some praise but not enough to win awards. Perhaps its semi-autobiographical plotline of a successful comedian – who burns himself in a drug binge – reflecting on his life was a tad too self-indulgent for the mainstream. His fans rated it as a brave and hard-hitting confessional, and it may have fared even better if it had simply been called "The Richard Pryor Story".
By then, those he had influenced – everyone from Eddie Murphy to Robin Williams – were starting to steal roles from him. He'd been shortlisted for the part of Billy Ray Valentine in Trading Places, but the role eventually went to Murphy. Pryor did work with the latter on the Harlem Nights movie in 1989, but it was to be one of his last major films.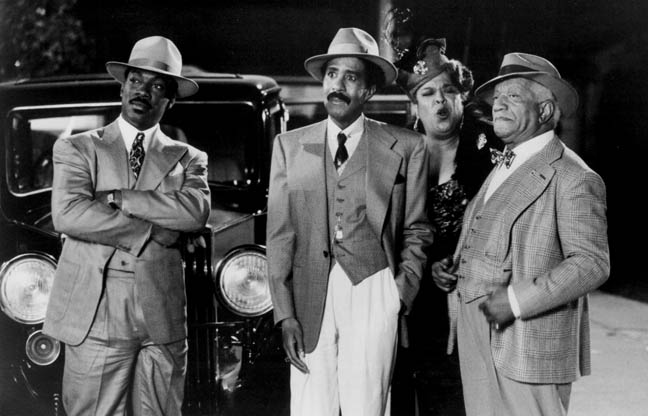 Eddie Murphy, Richard Pryor, Della Reese and Redd Foxx in Harlem Nights. Source: Paramount
In the early 1990s, any chance of a major wide-screen comeback was destroyed as Pryor was diagnosed with the damaging condition Multiple Sclerosis (MS, which stood, Pryor once said, for 'More Shit'). He was soon forced to use a power-operated wheelchair-scooter in order to get around his house (he appears on this vehicle in his very last movie role, a cameo as a garage manager in David Lynch's 1997 feature film Lost Highway).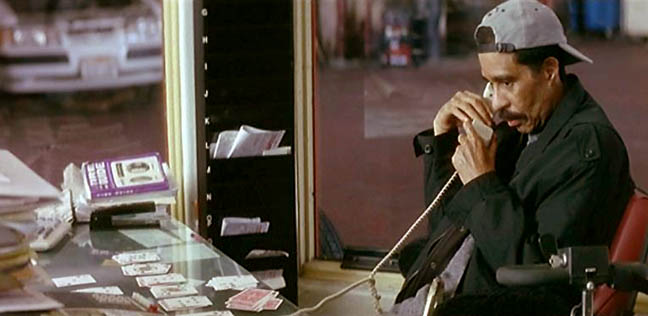 Pryor's last outing on screen was the cameo role of Arnie in Lost Highway
The next year Pryor was surprised to win the first ever Mark Twain Prize for American Humour, as dispensed by the prestigious John F Kennedy Centre for the Performing Arts – it was an award which brought a smile to the face of a man who would soon have trouble speaking.