This article is more than 1 year old
Dropbox DROPS BOX as service GOES TITSUP worldwide
Finger trouble? Firm blames routine maintenance on downtime cockup
Dropbox suffered a major outage across the globe today – the company blamed "routine internal maintenance" for the significant wobble, which appears to be ongoing.
At time of publication, Dropbox was claiming on its official status page that services were running normally again.
However, a quick scan of "Dropbox down" tweets told a different story, with many customers moaning that they remained locked out of the cloudy storage service.
Dropbox has been responding to some complaints on Twitter, promising to reveal more about the cockup once it had fixed the service. But it's worth noting that it was doing so with muted tweet replies.
A previous status message had read:
We are aware of an issue currently affecting the Dropbox site. We have identified the cause, which was the result of an issue that arose during routine internal maintenance, and are working to fix this soon as possible.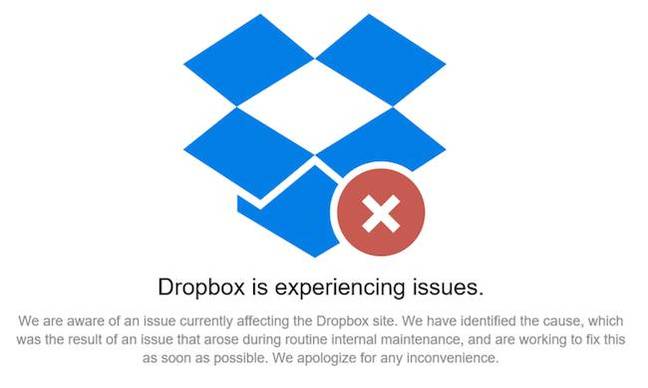 Dropbox said it was sorry for the blunder but didn't seem to have any clue about when its service would return to life. ®