Elton John's appearance as the Pinball Wizard in the 1975 movie Tommy has inspired a scientist to name a newly-discovered crustacean after the British rock star.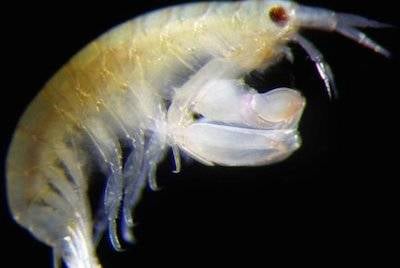 Look at the appendage on that! Leucothoe eltoni, new crustacean species.
Pic credit: Dr James Thomas; CC-BY 4.0
The shrimp-like sea creature, which was first spotted in Raja Ampat, Indonesia by Dr James Thomas from the Halmos College of Natural Sciences and Oceanography, Florida, has been dubbed Leucothoe eltoni in honour of Elton John.
Thomas said he was a big fan of Elton John, having sat in his lab listening to the musician's songs throughout his career.
"When this unusual crustacean with a greatly enlarged appendage appeared under my microscope after a day of collection, an image of the shoes Elton John wore as the 'Pinball Wizard' came to mind," he said, according to Science Daily.
The tiny dancer creature was found lurking inside another reef invertebrate in what is known as a "commensal association".
At this point, The Register would normally point you in the direction of the open access journal where the research had been published.
But Leucothoe eltoni is clearly a popular little fella, as – at time of publication – ZooKeys wasn't still standing. The Pinball Wizard shrimp seems to have given it the boot ... ®