Analysis China has been threatening to up-end the phone business for a while, without coming up with a convincing end product. Finally, though, it has, and I expect to see a rapid shakeout of top tier handset manufacturers, already reeling from years of losses.
The doomsday scenario for established vendors was that the Chinese would do to consumer electronics what Japan and Korea did to cars, but in much less time.
In the 1970s, Honda cars were cheap and cheerful (and pretty nasty, I remember), but twenty years later they were associated with reliability and quality.
The theory went: the Chinese manufacturers could do the trick in CE, because they already had huge home market scale and lower costs, and could recruit from a strong and talented engineering graduate labour pool – Huawei says it has a hundred engineers just working on tweaking Android for power consumption.
In addition, making a phone today is much easier than making a car. Anyone can make one. Google helpfully gives Android away for free, remember.
Just spend an afternoon in a Shenzhen electronics mall and you could make your own. We've seen two new phone "makers" just this week: Obi and WileyFox. See? How hard is that?
Adding to do the Doomsday theory we're underlying, there's problems with the economics of production, and changes in demand. The big budget, winner-takes-all flagship model looks broken, and only Apple and Samsung continue to make profits.
For Sony and HTC and others, there are big manufacturing costs and high marketing and corporate overheads, for products that are harder and harder to differentiate.
The market has grown cannier, opting for SIM-free devices. It's all lined up nicely for something that is truly (apologies in advance) "disruptive".
But none of the Chinese handsets – with Huawei leading the way – seemed to tick all the boxes. The hardware design was excellent, but the software wasn't, as I found with last year's Ascend P7. The price remained stubbornly high.

Finally, Huawei's Honor 7 (review) fulfils much of the promise we've been seeing for years. It's now on sale for a mere £209 (until the end of August).
The Honor 7 is really a £350-£400 phone, and it's got a USP: a clever sensor that genuinely helps with ease of use. The battery life and radio are excellent: it's worth remembering that Huawei is like the Ericsson and Nokia of yore (but no more), an end-to-end network company.
"Others don't have the experience of the communication that we have, we can control the signalling," Honor's UK MD James Jie told me in an interview. "We're the only vendor that has the (UK) network and device."
The grumbles I have about it are pretty trivial, like the nagware. Honor says it's only just started to think about the different markets, and cultural reactions differ.
Overall, the Honor 7 ticks all the boxes. It makes similarly-priced rivals look under-specced (lower resolution display, no sensor, smaller battery, poorer radio) ... and it makes expensive phones look over-priced. Motorola's comeback phone, the Moto G, had an impact on the budget market a couple of years ago, but Honor's impact will be much greater.
I don't expect a dramatic, overnight effect, though, and it seems Huawei doesn't either. Partly that's because of Honor's go-to-market choices. They've opted for an "e-commerce strategy" using their own storefront (VMall), to preserve margins, and on day one (two, strictly speaking) it leaves a lot to be desired.
We tried to buy an Honor 7 today (Friday). This is what happened (see right).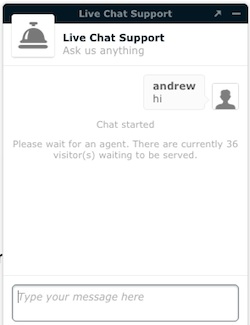 Honor will use one carrier/physical partner, which is 3, allowing you to phondle the Honor in around 350 stores, but that's it. Amazon will sell Huawei but not Honor brands. It's puzzling that Carphone isn't a partner, or at least, isn't yet. In the short term this is to boost awareness of (and trust in) the direct channel, but posing as an ordinary punter, I found it left a lot to be desired.
The VMall store will offer weekly flash deals and Black Friday-style promotions, Honor says. You still need to sign up to the shop itself to get anywhere, and as of writing, the device is sold out. When's it coming back in stock? They'll email you. You can't even order the "lattice case" (a rip of HTC's dot view concept) yet.
When I rang the (0800) Customer Service number it told me I was through to the Sonitel phone system and this number "was not connected to any Sonitel user or destination". Ah. The online chat support wasn't much more helpful. The box vanishes.
It takes more than a great product to be successful, and Huawei needs to concede some margin to Carphone and Amazon to get the sales the Honor 7 deserves. ®
Similar topics