Reg Reader and Stockport dweller Rob was shocked to find that trying to save his mother a few pounds on her gas bill ended up pushing the tab up £13,088.43, rather than down the 20 quid he was expecting. It was the unlikely result of entering a meter reading on Southern Electric's website.
Utility companies have a patchy record of adapting to the online era. And this seems to be one of those hiccups - rather an alarming one for the customers concerned.
The situation came about when Rob decided to use Southern Electric's online meter reading service to provide a correct meter reading instead of the estimated one that his mother's bill was based on.
Rob's mum had been sent a letter that estimated her meter reading to be 7328 - and put her bill at £142.12.
Turns out she'd used a bit less energy than they had predicted so the actual reading was 23 units less: 7305. He logged into southernelectric.com, stuck the new number in and the site came up with this baffling response.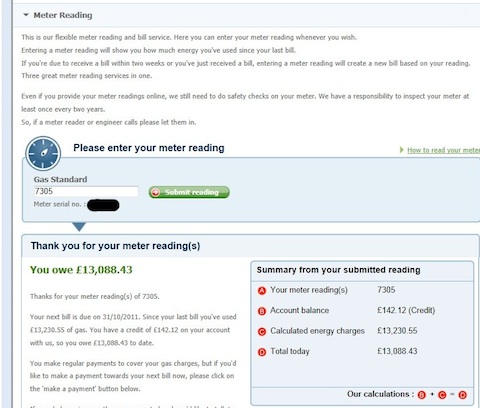 A screengrab of the Southern Electric online meter service, showing the new reading Rob entered and the crazy bill he got as a result
To recap, a meter reading of 7328 units gives a bill of £142.12, but a meter reading of 7305 units turned out to cost £13,230.55. You don't need to be Sherlock Holmes to detect something suspicious about that.
The box in which Rob entered the meter reading says: "Enter your meter reading". He inputted the number correctly and was logged into the account which had the details of the account number, the balance and previous bills.
We asked Southern Electric what went wrong. Turns out it is down to a weird feature of their website which would put other customers looking to save a few pounds at the same risk of being over-billed by ten thousand odd.
Instead of just taking the number down 23 and recalculating accordingly, their bill-calculator programme went through into a whole new cycle - pushed the meter up to 9999, down to zero again and then up to 7305. Meaning that they assumed it had gone up 9,977 since last time, rather than down 23.
When we asked why the calculator had taken this puzzling approach, Southern Electric explained. You are only allowed to enter a lower reading from your meter for a period of two weeks after you get your bill. In that two week window you can type in a new number and it will take the total down and recalculate a lesser bill. After that two week window is over, entering a number less than the number that is saved on the system will cause the calculator to assume that the meter has clocked itself, going through 9999 and climbing back up again, so generating an enormous bill.
We asked why they let people enter meter readings after the two week period if it is liable to cause the wild billing problems that it does, and a Southern Electric spokesperson told us that it was a useful service for people who wanted some advance warning about what their next bill will be. The unexplained glitch is that the new number must always be higher than the one previously recorded. There is some mention of the 2 week time period in the write-up above, but it doesn't say that the calculator will perform a completely different calculation after a certain time period.
Note the phrase "This is our flexible meter reading and bill service. Here you can enter your meter reading whenever you wish."
The Southern Electric rep apologised to Rob and his mum on behalf of the company, said that the company was sorry for the confusion and that the comments would be reported to the company's e-Services division. It was stressed that no charge for £13,230.55 would be made.
The spokesperson assured us that anyone receiving an outlandish bill as a result of this can just phone the company or use their online-help service and the bill will get fixed up immediately. ®