This article is more than 1 year old
Back to school: Six of the smartest cheap 'n' cheerful laptops
The usual suspects for studious souls
Product Roundup The summer's been and gone already, and it's the time of year when our brightest and best leave home to enter the hallowed halls of academia. Any young student will need a decent laptop to help them out with essays and other work, but the chances are that most students will also be on a pretty tight budget.
Fortunately, every major PC manufacturer has a number of laptops that are specifically designed for cash-strapped students. Most of these low-cost laptops are fairly conventional 15-inch models, which generally provide decent levels of performance even if they don't exactly dazzle when it comes to screen quality or battery life.
However, there are a few interesting exceptions to that rule. Toshiba opts for a larger 17-inch screen that does provide better image quality for tasks such as photo-editing or post-pub Netflix binges. There are also smaller, more portable options, such as Dell's sturdy little Latitude 11, which only has an 11-inch screen but provides all-day battery life.
And the good news is that all the laptops reviewed here come in at well under £400 – and some are even under £300 – so there's plenty of choice for students who need to get online and get down to work without spending too much money.
Acer Aspire E5-511

Acer's Aspire E5-511 makes a good first impression. The 15.6-inch display only provides 1366x768 resolution, but that's pretty much the norm in this price range, and the screen is bright enough to provide respectable viewing angles when reading web pages or watching video. The keyboard feels firm and comfortable, and we like the large trackpad too. The only minor irritant here is the speaker system, which sounds rather thin and tinny.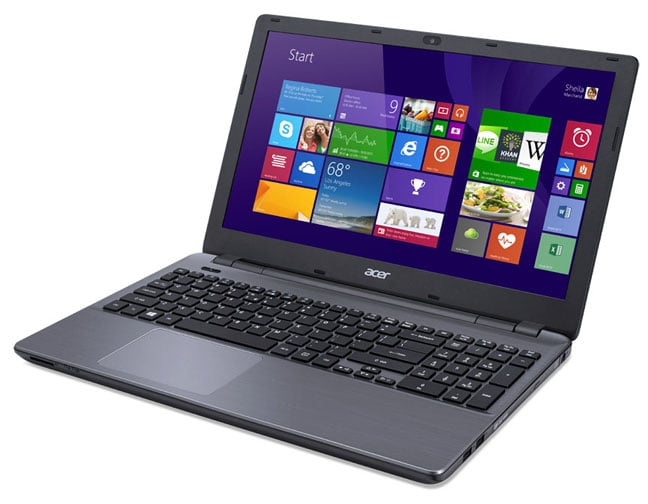 Performance is a bit of a mixed bag, though. Last year's 2.16GHz quad-core Intel Pentium N3540 processor is used in the E5-511 providing a very modest performance, despite a burst feature that can boost the clock speed to 2.66GHz.
It managed scores of just 1505 and 1892 points when running the Home and Work suites in PCMark 8, which means that it's primarily suitable for basic tasks such as web browsing and running Microsoft Office. But, to be fair, it also packs in a 1TB hard drive. The Ebuyer sample we were loaned had a healthy 8GB of memory, which will help out when running multiple apps or doing some photo-editing. A cheaper 4GB version can be found but is best avoided.

PCMark 8 benchmark results
The Pentium processor also turns out to be surprisingly power-efficient. It lasted for 6.5 hours when running PCMark 8, and extended that to seven hours and ten minutes when streaming video off the BBC iPlayer. It may not be fast, but that sort of battery life is unusual at this price and ensures that the E5-511 can still earn its keep when you're on the move.