Back to school: Six of the smartest cheap 'n' cheerful laptops
The usual suspects for studious souls
---
Dell Latitude 11 3150

If you're looking for a really portable laptop that you can carry around all day, then Dell's Latitude 11 3150 Education series model is worth checking out. It's neatly designed, with a sturdy case and rubber trim to absorb the occasional bump in a backpack. The 11-inch screen might not suit everyone, and the 1366x768 resolution means that you don't have much room to play with on the Windows desktop, but it's quite bright and works well for streaming video.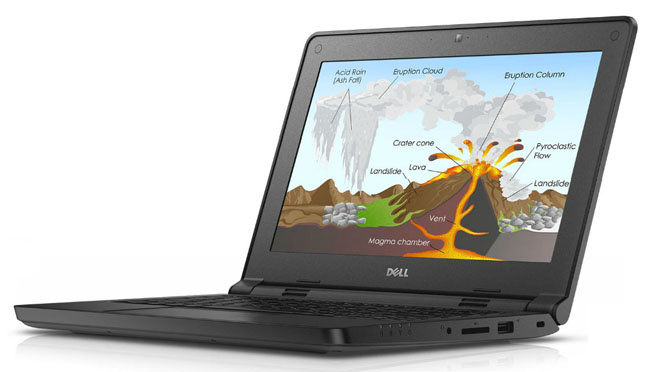 There's a non-gloss coating on the screen too, so you can use it outdoors without too much glare and reflection to distract you. That small screen keeps the weight down, and at just 1.35kg and 22.9mm thick the Latitude 11. The only minor disappointment is that the quad-core 2.16GHz Intel N3540 Pentium processor used by the Latitude 11 – the same as on the Acer – isn't a great performer.
Its scores of 1511 and 1978 when running the Home and Work suites in PCMark 8 are closer to tablet territory than hard-working laptop. Even so, the Latitude 11 works fine for web browsing and running Microsoft Office, and its 128GB solid-state drive makes it feel a little faster and more responsive than we expected.
PCMark 8 benchmark results
Battery life was an unexpected surprise too – it lasted 5.5 hours when running PCMark 8, and managed a full nine hours when streaming video from the BBC iPlayer, so it's a really good option if you need a basic laptop for web browsing that can last all day long.
Price
£363
More info
Dell