IFA2015 Apple introduced "force touch" in its MacBook earlier this year, and it is expected to appear on iPhones very soon. But Huawei has stolen some of Apple's thunder by announcing a flagship with the variable pressure feature at Berlin's IFA consumer show today.
The Mate phone can "guess the weight" of an object placed on the screen – so long as the screen doesn't break.
In addition to a new arrival in its meaty Mate range and another newcomer in its G range, Huawei said that its first vapourware Watch will finally be available in the UK next month – seven months after it was unveiled at Mobile World Congress.
Phones like the Mate used to be called phablets, until all phones got bigger and it became a distinction without a difference. The Mate 8 is not the first Huawei device to draw, um, heavy "inspiration" from Apple's designs, featuring similar styling and speaker grill.
Huawei's "Spotlight" feature and camera app are straight rips. But these days, Huawei isn't shy about making fruity comparisons and boasting about them itself – claiming the Mate S is thinner, has more carefully hidden antennae and narrower bezels than Apple's biggest phone.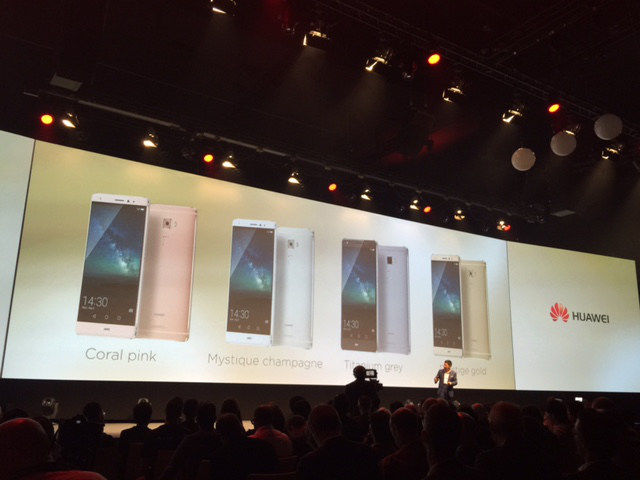 The Huawei announcement
The curves and the thin edges make it more comfortable to hold than Apple's fragile 6 Phone Plus slab. Some tricks from the latest Honor are present here, such as more "knuckle gestures" (a gesture made with greater force) to capture a very long page, or irregular-shaped portions of images. As with the Honor 7, you can start apps from sleeping by tracing a letter with a knuckle.
One new, useful and very Huawei-ish feature – doubtless dreamed up by its PhDs – is directional listening antennae. These pick up audio much better in conference calls, eliminating side noise, making it easier to tell who's talking. Huawei's fingerprint sensor is another plus – it's probably the best in the industry – and you can use it to do a lot more than unlock the device.
The rear sensor makes the hard-to-reach Notifications pane easier to reach, for example, as we found in the Honor 7 last week, and can task switch and answer calls. The Mate's can swipe through a gallery.
However, if people buy large phones for their long battery life as much as their display, then the Mate S may disappoint. The 5.5inch (401ppi) FHD display is outstanding, although its 2915 mAh sealed battery unit won't last much more than a day. Huawei has also added waterproofing and rapid charging to the range – "2x faster than iPhone 6 plus" – using a 5V 2A charger.
It's a dual-SIM LTE connection: the Honor can be support two SIMs concurrently, using the second SIM slot for an SD card. On the Honor, one must be 2G. The Mate S will support frequencies in Europe, the USA and Asia.
In a world of me-too generic slabs, every differentiator helps.
The phone can be pre-ordered from September 15 from Huawei's VMall store. Price for 3GB/32GB grey/champagne will be €649, while 3GB/64GB gold/pink will be €699. The "force touch" version with 128GB will be announced later. Hence the scare quotes in the headline.
Watch
It's taken Huawei six months to bring its first watch to market – and the four models won't be cheap when they arrive in the UK next month. Huawei has gone for the premium fashion buyer, like Apple, with prices to match.
The 1.4inch 42mm Android Wear-based device has a sapphire cover and 400x400 display and a range of luxury straps. The four models are all round, but otherwise look different. The cheapest will set you back €399, rising to €699. Google has relented and will allow iPhone owners to use its Wear watches. ®