This article is more than 1 year old
If VMware is a sun, here are the storage worlds we've spotted orbiting it
The force is strong in this one, Darth
VMworld 2015 Behold the storage sun king – VMware is the center of a storage solar system with planets and asteroids orbiting around it in belts: the EVO, VSAN, and VVOL orbital zones. Fresh activity has been detected by telescopes on planet Register using its snark-o-scope.
In the VSAN zone we find Nexenta doing a deal with VMware whereby any validated VMware Virtual SAN customer can receive NexentaConnect to get file services – NFS and SMB access – layered on top of VSAN. The offer starts this month and includes unlimited raw storage capacity to match VSAN licenses, plus Nexenta technical support for 12 months.
Gaetan Castelein, a senior product management director at VMware, gave out a quote to make Nexenta swoon. "We are thrilled to select Nexenta as our file services component of VMware Virtual SAN."
Incidentally, Wipro said it is using NexentaStor to provide a VDI storage infrastructure for its VMware Horizon rollout with 4,000 users involved. It's going to use NexentaStor for its internal VDI as well as offering it to its customers.
SanDisk has announced all-flash VSAN v6 reference architectures, three of them, using SSDs and ioMemory PCIe app accelerator cards:
OLTP – a 4-node job using 4TB Optimus MAX SSDs on Lenovo System x3650 M5 servers. The HammerDB performance tuning and benchmarking tool was used to run a 5000 Warehouse TPC-C-like workload.
VDI all-flash – SanDisk's Lightning Gen. II SSDs and Dell R730 G13 servers, tested run 800 Horizon 6 Desktops on a starter 4-node cluster, and bringing up 850 desktops in 35 minutes.
VDI hybrid – based on HP ProLiant DL360 Gen9 servers and SanDisk's Fusion ioMemory PCIe app accelerators for caching in a hybrid VMware Virtual SAN cluster.
VVOLs and tail-spinning
In the VVOL area we have action from Atlantis, EMC, HDS (Hitachi Data Systems), and Primary Data.
Atlantis says its USX product is the only software-defined storage or hyper-converged solution that is certified for VVOLs, "enabling VVOL to manage all existing storage in the data center." Atlantis does say "manage all existing storage in the data center."
Atlantis has upgraded USX to v3.0, saying it "delivers expanded data protection and data mobility functionality that enables customers to make the entire data center more agile by provisioning, cloning, snapshotting, replicating, and teleporting virtual machines and data in seconds."
The company is busy in the hyper-converged system area too. It's having its HyperScale CX-12 and CX-24 all-flash appliances factory-integrated and shipped directly to customers by server vendors or their distributors. These appliances have a choice of Cisco, HP, Lenovo, or SuperMicro server hardware. The HP deal (single SKU) is world-wide and the Cisco one is expected to go that way too.
With software storage products like this, you get the impression someone's spinning dogs around by holding their tails; but you don't know if it's SW humans spinning HW dogs, or HW people spinning SW canines. Who's in control here? It's all very confusing.
EMC has revealed its VVOL support schedule: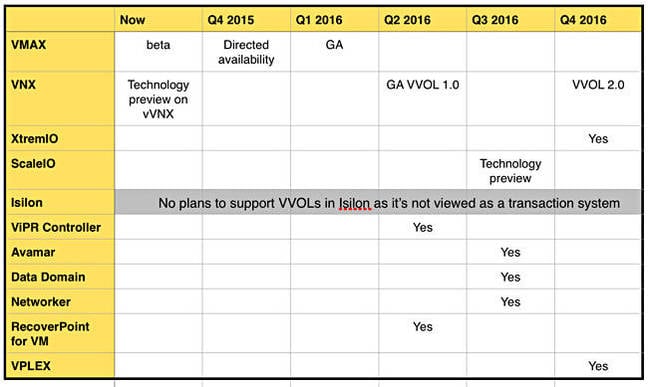 EMC product VVOL support schedule
HDS has added VVOL support to its VSP G1000 array. VSP arrays are getting stretched storage cluster support, using global-active device technology, via vCenter Site Recovery Manager (SRM).
Primary Data says its brand, spanking new DataSphere data virtualization platform will be designed to serve as a Universal vSphere Storage APIs for Storage Awareness (VASA) storage provider for vSphere Virtual Volumes (VVOLs); think universal VASA.
It says "DataSphere delivers a breakthrough solution that will allow existing storage to be VMware VASA-compliant." That means server-side flash, shared and cloud storage supported by DataSphere, whether or not these products have native VVOL support.
EVO evolution
The EVO zone has seen new stuff too, with Dell and HDS activity.
Dell's EVO SDDC has been announced, the rack version of EVO:RAIL, a hyper-converged SW-defined data center (SDDC) offering. It should be generally available in the first half of 2016.
It has also upgraded its EVO:RAIL Horizon edition so that it provides more than 80 per cent greater density for virtual desktop and application workloads compared to the previous version. That's quite a jump.
Its new release of Active System Manager (ASM) 8.1.1 integrates with the vRealize Suite cloud management platform, so Dell ASM customers can integrate physical and virtual environments, and have "end-to-end dynamic cloud provisioning within the VMware vRealize Suite."
That's done via a plugin to vRealize Orchestrator and vRealize Automation.
Dell is also reviewing its Dell Hybrid Cloud Platform Reference Architecture with VMware vRealize. It's designed "to help customers speed the design and deployment of a scalable and highly available VMware private or hybrid cloud solution."
HDS has a Unified Compute Platform (UCP) 1000 for EVO:RAIL. It optionally integrates with Hitachi's Data Ingestor software so UCP 1000 data can be siphoned off to a Hitachi Content Platform (HCP) system on-premises or to the cloud with Hitachi Cloud Service for Content Archiving.
VMware bomb blast and containers
What's clear at VMworld is just how massive an effect VMware is having on the storage industry. Should we consider that containerization will have a similar dynamic impact on our industry?
For example, VMware has created VVOLs; will we see CVOLs, Container Virtual Volumes? With containers being more open than VMware, will any such CVOLs be an industry-standard? Will OpenStack have a play here?
Our storage industry is changing so fast and in such unexpected ways. Incidentally, as a closing remark in the "I never knew that" category, I hear that EMC's ViPR is implemented with Docker and uses containers – that's why it scales so well. Amazing technology. ®