The 100GB PHONE! Well, it has shades of Chrome, so not quite
Not using that bit of data, then dump it into online storage
---
A motley crew of ex-google engineers is crowdfunding the "Robin" smartphone, which claims a whopping 100GB of storage.
In fact, what makes the device special is its reliance on always being connected to dynamically provide off-loaded storage.
The company behind the phone, Nextbit has developed some memory management software which looks at what data and programs are least used in your phones and dumps them to online storage. A row of LEDs on the back shows that it's busy uploading or downloading.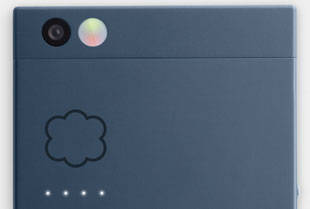 Another LED on the bottom tells you when have important notifications, even if your phone is on silent and face down on a table, much like Blackberrys of yore.
It looks pretty, in as much as all smartphones look the same, thin at 7mm, with a 5.2-inch, 1080p screen, and has dual front speakers.
Nextbit is well funded, the with Google Ventures and Accel Partners having stumped up cash in a funding round of $18m, but then the team behind the phone is well connected.
The CEO, Tom Moss, lists the job title of "Entrepreneur In Residence" at Accel on his LinkedIn page, and the dynamic software in the Robin is akin to the enterprise tools his company 3LM developed before being bought by Motorola, which was then flogged to Google and onto Lenovo.
CTO Mike Chan was also a Google Android man before going to 3LM, and chief design and product officer Scott Croyle was responsible for design on HTC's One M7 and the really rather nice M8.
The specs are quite high-end and the prices, initially at least, are pretty reasonable. It's on Kickstarter with an expected ship date of next February, but has already blown through the $500,000 funding target, so you'll be committed.
The first 1,000, $299 phones have all gone so you are looking at $349 or $399 with a case, cable and addition 100GB of storage.
For that you get a phone with a Snapdragon 808, 3GB RAM/32 GB onboard, a 13MP rear camera, and 5MP front camera, and fingerprint sensor. The company claims great life from the 2680mAh battery, as the "Robin is engineered for an extended battery life ... our CTO, Mike (the guy who lead the power management team at Android) wouldn't have it any other way", said a company statement.
It's a shame it's non-removable and there is no wireless charging, but both of those features make a phone thicker. Gluing a battery in helps with rigidity, and inductive coil takes space. The phone will be made by Foxconn.
Of course, Nextbit didn't have to build a phone to do its dynamic storage – that could just have been another app on Google Play – but the company has a history in this area.
It did something similar for NTT DoCoMo. As a USP it leaves the company a little exposed – Windows Phone does something similar with photographs to OneDrive. However, the phone looks good and it's always interesting to see another new start up. ®
Similar topics
Narrower topics