Game Theory Having watched Mad Max: Fury Road I've been gagging to get my hands on my Magnum Opus car in the new Mad Max game. Up until the game's release, all I have had to entertain myself has been news of the controversially rapey Furiosa comic and, joy of joys, a baking friend's discovery for instant War Boy: silver spray icing.

"Witness me!! I live, I die, I LIVE AGAIN"
The wait is over now and developer Avalanche, purveyors of Just Cause, has taken the Mad Max timeless, post-apocalyptic franchise and created a new standalone storyline. Originally scheduled for a 2013 release, Avalanche decided that to do the game – and its Marauders and gasoline-greedy pirates – justice, it needed to wait for some next-gen console technology.
But never mind those console n00bs, my Overclockers Infinity Vesuvius 4K rig had no problem running Mad Max on the highest settings at 79 FPS at an eye-popping resolution of 3840 x 2160-pixels. More on my 4K gaming experience here.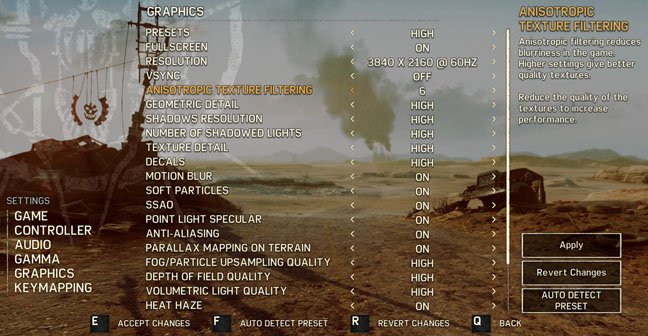 PC video settings accommodate 4K playback, if your system is up to to the task. Click for a larger image
After losing his iconic and beloved car The Interceptor, Mad Max spends the rest of the game creating a next-level ride, The Magnum Opus. Good thing too, as more than half the game is filled with vehicular combat and navigation through dust and dunes.
The Magnum Opus relies on constant upgrades during the game. Car customisation takes up most of my concentration and it's the evolution of this rat rod that adds to the game's sense of progress and development. But character customisation, in the form of appearance and skills, is also important to my ability to survive – and to be sure, there are the requisite amounts of leather and Kevlar on show.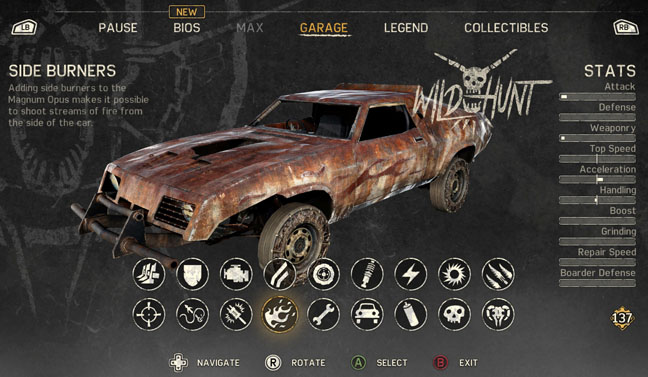 Magnum Opus upgrade options. Click for a larger image
Knuckle-dusters aren't just for some kind of BDSM makeover; they help me pack a potent punch. Which is convenient because things get real fighty, real fast. Close quarters combat gives me flashbacks of Batman: Arkham Knight and it's just as brutal. Considering I'm in a wasteland full of the demented cannibalistic leftover population of the Apocalypse, I feel this level of ferocity is quite fitting.
Similar topics