Brit school claims highest paper plane launch crown
35,043m drop finally breaks PARIS Vulture 1 record
---
PICS+VID It's official: El Reg has finally relinquished its highest-altitude paper plane launch Guinness World Record, almost five years since the Paper Aircraft Released Into Space (PARIS) Vulture 1 triumphantly swooped to earth from 27,310m.
On 24 June, The Science Club of Ipswich's Kesgrave High School, led by science teacher Dave Green, dropped their "Stratos III" from 35,043m over Cambridge.
As you can see form the vid, the mission ran pretty well on rails, apart from a bit of drama in recovering the aircraft, which came down some 40km from the main payload.
The final design for the Stratos III was the result of a Space Club compo...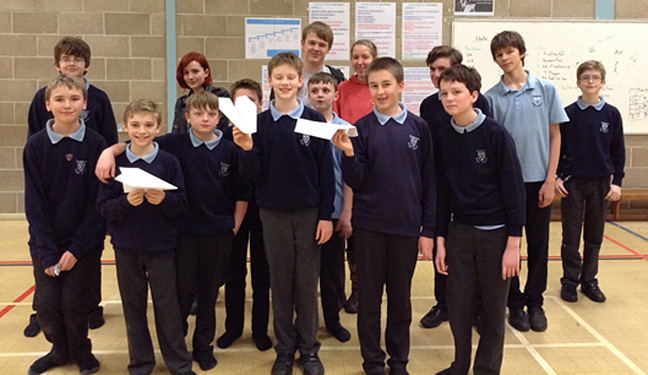 ...and here's the final winner with High Altitude Ballooning (HAB) luminary Steve Randall, (who was tasked with coming up with a suitable release mechanism for the project)...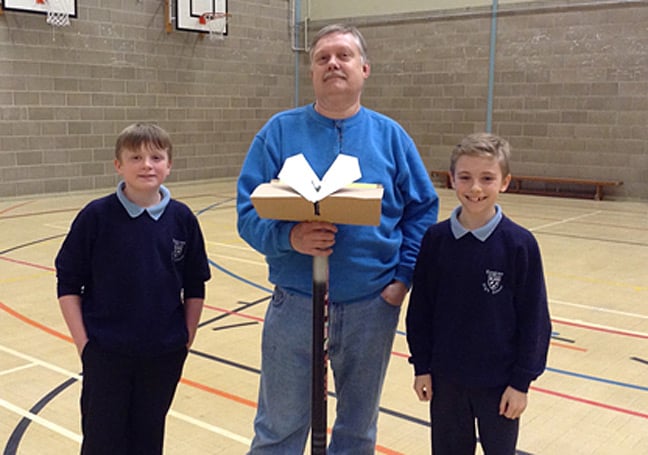 ...and the completed aircraft: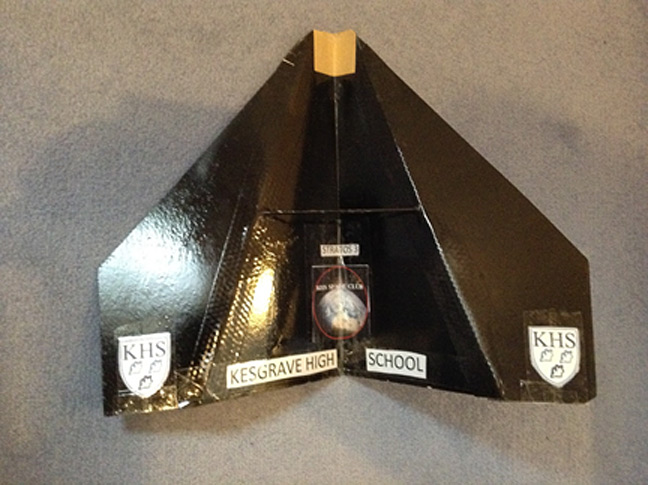 Dave Green told us:
We did think of using plasticized paper but it is very stiff and not 100% paper/card so in the end we adopted the shape but built it from a sheet of card.

For the launch attempt, we used the basic shape with a piece of card big enough to take a GPS tracker at the front. The final size was 38cm wingtip to wingtip and 32cm long. A small plastic spar is glued across the middle to enable it to be attached beneath the main payload. It is not structural as the cardboard is stiff enough to hold the dart shape. Clear tape was used over the folds to ensure they didn't wear in flight or damp seep into the fold.
Steve Randall's release mechanism consisted of a servo arm gripping the plastic spar which, at a predetermined GPS altitude, was activated and released the Stratos III.
Well, it's a tip of the hat to Kesgrave High School for their record-breaking mission. Dave Green enthused:
The students have been very excited and proud to be part of a world record attempt. For those students involved in gathering and submitting evidence to Guinness World Records, although we knew we had done it, there was a feeling of relief that we had met all their criteria when we finally got confirmation!

For me, there was a feeling of immense satisfaction seeing the students engage in the project and getting girls involved as well as boys. Attendance at Space Club has risen noticeably as we got closer to a launch attempt. Hopefully it will encourage some to consider STEM subjects at school and college.
That it's taken so long to break our record demonstrates how tricky the apparently simple prospect of launching a paper plane in the stratosphere actually is.
In 2012, the University of Southern Indiana had two pops with the Geronimo aircraft, and were thwarted first by premature balloon burst, and then by the disintegration of Geronimo at 32,612m.
Last year, a group of cadets from Fox Valley Composite Squadron of the Illinois Wing, Civil Air Patrol successfully dropped a paper dart from 29,430m at the third attempt. It appeared they'd claimed the record, although it's unclear whether they were able to provide the necessary video evidence of the launch required by Guinness World Records. ®