Boffins build magnetic field cloak 'wormhole', could help MRI scanners
Cool cloak no sci-fi joke
---

Alvaro Sanchez, (left), with Carles Navau, and Jordi Prat-Camps (right).
Scientists have created what is being dubbed a 'wormhole' that can split a magnetic field and lead to better MRI scanning.
The wormhole allows a magnetic field to be transported across space but it is not the kind of cosmic tunnel popularised by science fiction. Rather, the magnetic field at one end of the wormhole appears at the other end as an isolated magnetic monopolar field, "creating the illusion of a magnetic field propagating through a tunnel outside the 3D space".
Scientists Jordi Prat-Camps, Carles Navau, and Alvaro Sanchez at the Autonomous University of Barcelona detail the work in the paper A Magnetic Wormhole published in Nature. They say the design is the practical application of theoretical work proposed in 2007.
The research uses artificial so-called metamaterials that interact with electromagnetic fields, and helps forward the way to the creation of light invisibility cloaks.
A magnetic hose was pulled through a sphere of magnetic material and superconductive strips which hid the deflection of incoming fields, resulting in a magnetic monopole.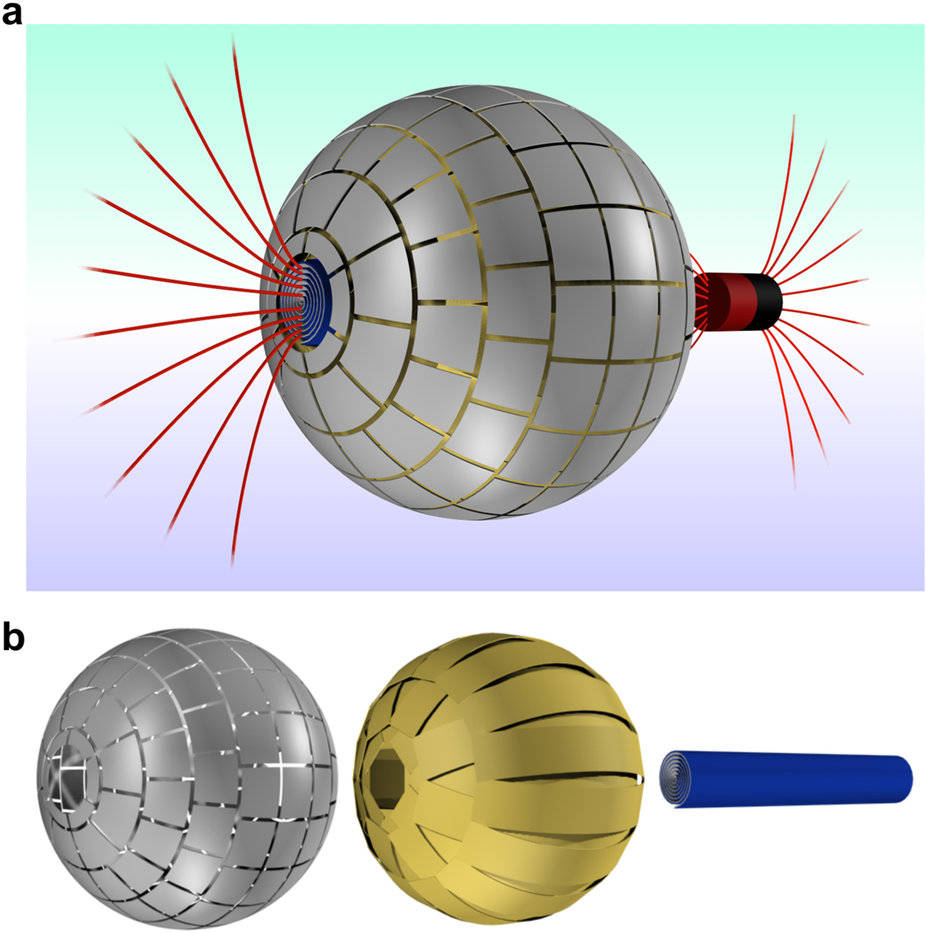 Metamaterial sphere. The gold layer contains the magnetic material with a superconductive outer.
The practical application could mean MRI scanners could work in concert without interference, or to help widen the chamber in which patients lie during the scans.
Based on metamaterials, it could allow electromagnetic wave propagation between two points in space through an invisible tunnel. However, an actual realization has not been possible until now. Here we construct and experimentally demonstrate a magnetostatic wormhole. Using magnetic metamaterials and metasurfaces, our wormhole transfers the magnetic field from one point in space to another through a path that is magnetically undetectable.

We experimentally show that the magnetic field from a source at one end of the wormhole appears at the other end as an isolated magnetic monopolar field, creating the illusion of a magnetic field propagating through a tunnel outside the 3D space. Practical applications of the results can be envisaged, including medical techniques based on magnetism. ®