Wangling my way into the 4K gaming club with a water-cooled whopper
Catching a glimpse of uncanny valley
---
The devil in the detail
Overall, I was impressed with the support for 4K in these games. I found the scaling up, especially with the menus and text, wasn't as buggy as I thought it might be. Although I have to say, the text in Total War: Attila was minuscule and very hard to read.
So is 4K worth it? At the moment 4K works best for RTS and role playing/strategy games. In fast, first-person shooters I just don't have the time to slow down and notice the details and 4K isn't worth the drop in frame rate.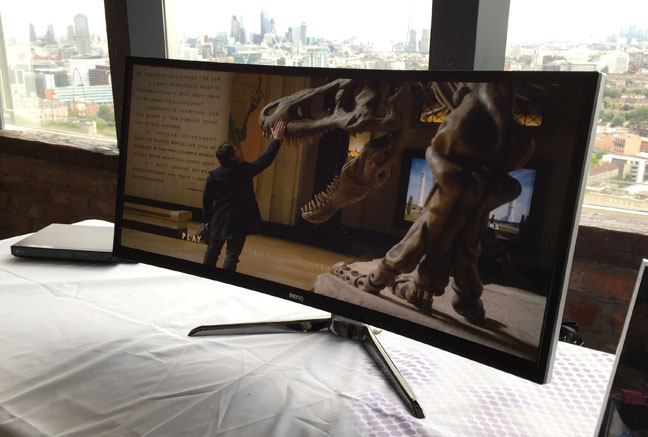 BenQ XR3501 curved 35-inch 21:9 monitor
The consensus round my gaff is that the size of the thing you're looking at is more important than the detail. Whether opinion would change radically if we'd been playing through a 55-inch UHD TV, rather than a 24-inch monitor, is a test that will have to wait for another time.
Fortunately, display playback choices are not so cut and dried as just simply HD versus UHD. I came across an alternative for gamers at the recent launch event for the BenQ XR3501, a 35-inch curved cinemascope monitor with a 21:9 aspect ratio.
Even with a resolution of 2560x1080, I found this screen easily as impressive as the Viewsonic VX2475Smhl-4K and – given its size, aspect ratio and curvature – certainly more gratifying. Featuring a 144Hz refresh rate, BenQ's latest is all about teeth clenching, eye juddering action. It also has an eye-watering price of €1,299 – around £950.
Playing Project Cars on three BenQ XR3501 monitors pushed together to form an arc of tarmac was utterly immersive and got my heart racing almost as much as those of the other gaming journalists who saw my pants as I rolled out of the floor level gaming chair.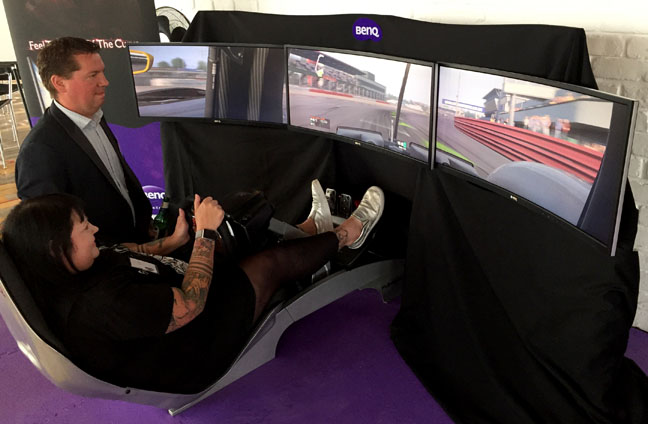 Immersive imagery: Project Cars on three BenQ XR3501 monitors
Unsurprisingly, it's always a case of cash. If you've got enough of it to build a rig like the Overclockers Infinity Vesuvius then, yes, you can run 4K with most of the bells and whistles. However, you'll have endure the early adopter price point pain as there will always be something cheaper or faster coming out further down the line. We've seen it with 4K tellies and monitors, the GPUs will not be too far behind.
4K is the biggest leap I have seen in a long time but I suspect that, for the time being, most gamers will be content with the graphical overhead of HD, which allows full-on tessellation and anti-aliasing.
At the moment, gaming at 4K involves making too many sacrifices for silly money. The Witcher 3 was a classic example of this, with its astonishing clarity traded up against a slow but playable frame rate.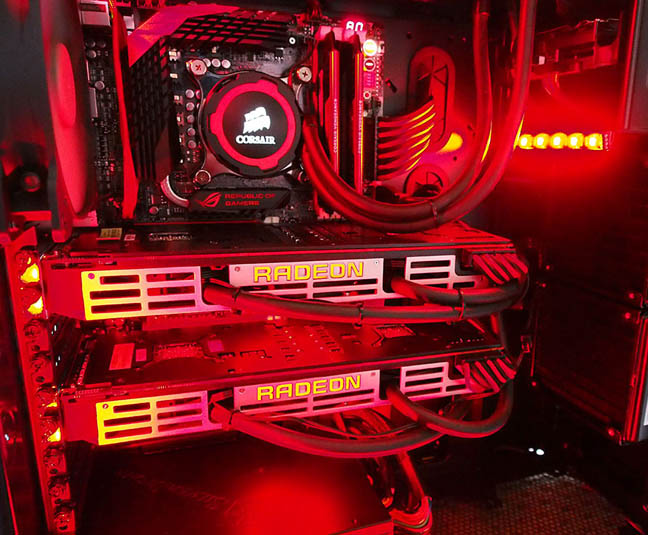 Cool dude: inside the Overclockers UK Infinity Vesuvius 4K gaming rig
I spent my evenings doing a lot of drunken boasting at the pub about draw distances and pixels per degree of vision. Dull moments during work hours involved emailing friends impressive screenshots and pictures of my quad Crossfire AMD R9s.
Then I'd go home and feel all empty inside because I'm basically a member of an elite gaming club (thanks Overclockers) that I know can't leave without feeling a little lost inside without that realism. Yep, HD just doesn't cut it anymore, as I may have just had my first glimpse of uncanny valley. ®
Thanks to Overclockers UK for the loan of the Infinity Vesuvius 4K gaming rig.