They're FAT. They're ROUND. They're worth almost a POUND. Smart waaatch, smart waaatch
Samsung, world+dog unveil more wrist jobs
---
IFA 2015 Samsung teased its Gear S2 smartwatch at IFA on Thursday night. Like others I've seen here, it looks really handsome: expensive, well made, and well designed. Makers now realise they have to look like luxury goods to justify the price. But the Gear S2 is no exception to the fundamental challenge they all face.
They're all, still, a solution looking for a problem to fix. Which isn't exactly news.
Apple sold more Watches in a day than Android Wear vendors shifted in a year. And even Apple is struggling to convince us that it's a must-buy. Ben Evans' recent "counterintuitive" defence of the smartwatch concept, justified it by its marginal convenience, is really a reminder that we can get the same utility from a Pebble.
Evans works for the noisy Silicon Valley speculator Andreessen Horowitz, which bet big (stupidly big, in fact) on Google Glass. Sunny-side-up analysts – such as IHS, quoted here – think Apple is "educating consumers".
But what if the consumers are already educated, thank you very much, and don't simply find £400 of utility from a demanding new piece of gadgetry? Perhaps, rather than the public missing something obvious, they're well aware of the pros and cons.
Here at IFA new watches appeared from, among others, Samsung, Motorola, Huawei and Sony. Sony's Wena is by far the most unusual and interesting, and is completely at odds with the rest of the industry. Wena is an employee skunkworks project (that moves the "smart" part to the bracelet – the watch is a conventional analogue timepiece. The bracelet will have NFC and notify you via vibrations and an LED light. It will only be available in Japan from next spring.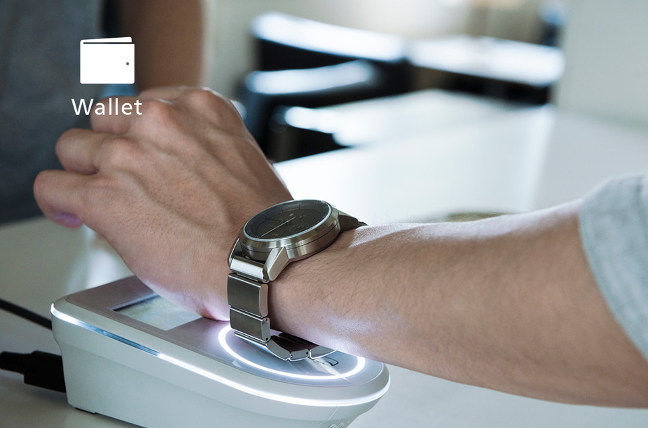 Sony's Wena smartwatch will
It's basically an admission that everyone has got it wrong, and that if payments and notifications are all people want, you don't need a quad-core processor and power guzzling display to deliver them.
Oh Sammy, what can the matter be?
On to the Gear S2, which is much better than Samsung's previous efforts. It's using Samsung's own Tizen but impressively, has more apps than Wear. The S2's major "innovation" (I use the term generously) is a rotating bezel, giving you three input methods: buttons, screentaps, and the bezel dial. Perhaps that's one too many.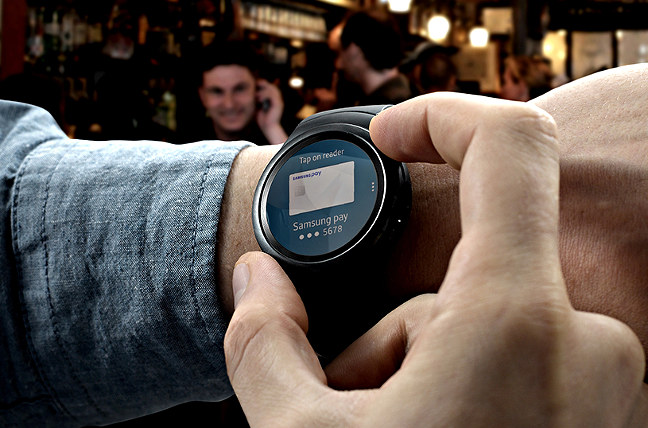 Twiddler: You can rotate the Gear S2's bezel, and that's an innovation these days
The conventional wisdom is that Samsung has a struggle to maintain a platform when Google and Apple are already entrenched. But last night's launch showed it already has half a yard's lead, and perhaps it's quality, not quantity, that counts for smartphone apps? Perhaps you only need a few key ones – the rest will be on your phone anyway. Samsung has done a decent job with developers, for sure.
Huawei the lads
Huawei spent a fortune on catwalk models to launch the watch it announced months ago. Like the swanky LG Urbane, it looks great – both companies realising that tech on its own isn't enough to sell a smartwatch. But like the Urbane, it's simply bog standard Android Wear inside.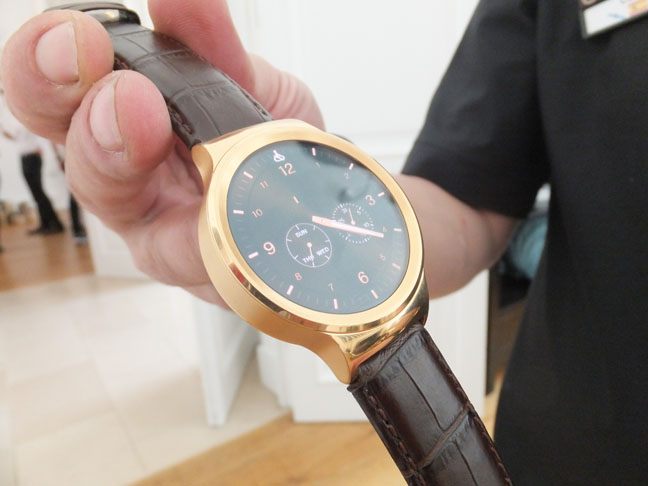 The Huawei Watch, as first announced back in March
So where does this leave us? I don't anticipate Apple's, or any of these watches, to break through beyond a niche. The luxury watch business looks impervious to this kind of clumsy "disruption". I expect niche products like Fitbit, Pebble and TomTom to continue to keep afloat, while something completely left-field, like the Wena but not the Wena, may make more headway.
But so far, I haven't seen what this might be. ®