Astroboffins EYEBALL 13 BEELLION-year-old galaxy far, far, farthest away from Earth
'EGS8p7 is unusually luminous, may be powered by hot stars'
Scientists reckon they have detected a galaxy that is more than 13 billion years old.
It's understood to be the most distant galaxy ever observed by boffins, who revealed their findings in the latest issue of Astrophysical Journal Letters.
The 13.2 billion-year-old galaxy has been dubbed EGS8p7. It was tagged as a candidate needing more investigation, after data was gathered by NASA's Hubble Space Telescope and the Spitzer Space Telescope.
NASA Hubble Post-doctoral Scholar in Astronomy Adi Zitrin and Caltech veteran Richard Ellis performed a spectrographic analysis of the galaxy to work out its cosmic redshift – which is used to measure distance to galaxies.
They used the multi-object spectrometer for infrared exploration (MOSFIRE) at the Keck Observatory in Hawaii.
"If you look at the galaxies in the early universe, there is a lot of neutral hydrogen that is not transparent to this emission," said Zitrin.
"We expect that most of the radiation from this galaxy would be absorbed by the hydrogen in the intervening space. Yet still we see Lyman-alpha from this galaxy."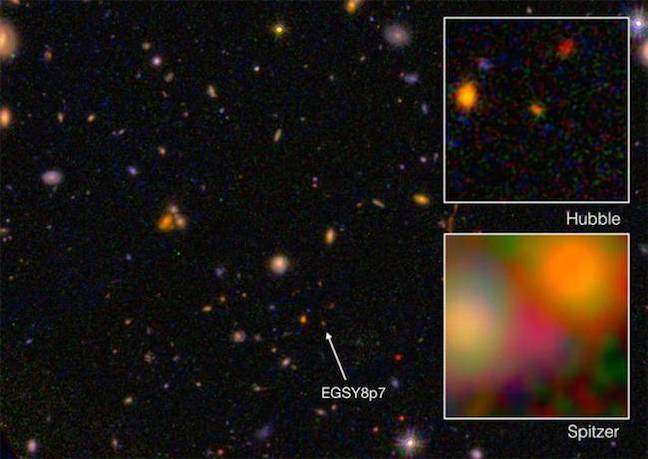 EGS8p7 galaxy as seen from the Hubble Space Telescope and Spitzer Space Telescope.
Image credit: Labbé (Leiden University), NASA/ESA/JPL-Caltech
Caltech graduate student Sirio Belli added that EGS8p7 was "unusually luminous, may be powered by a population of unusually hot stars, and it may have special properties that enabled it to create a large bubble of ionised hydrogen much earlier than is possible for more typical galaxies at these times." ®