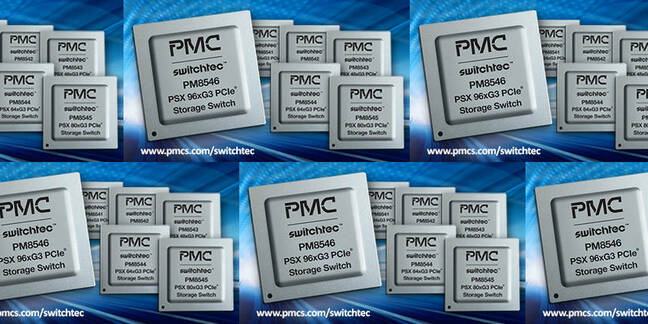 Q&A PCIe switching sounds like a mundane topic, but it's actually a key part of the revolution that's blurring the boundaries between servers and storage arrays, with vastly faster data access the result.
Vancouver's PMC-Sierra has launched its Switchtec switches, and we asked product marketing manager Ray Jang some questions about why this is worth attention time.
El Reg What is the background to the PCIe switching products?
Ray Jang The PCIe standard was not originally intended for the relatively harsh requirements of enterprise storage, server, and data center equipment. For example, in the data center environment, unexpected surprise plugging and unplugging of cards, drives, and other peripherals without ever crashing the CPU and/or system is a key operational requirement. Standard PCIe switches aren't able to handle every-day occurrences like these, and that's been a barrier to PCIe adoption in enterprise systems.
Significant technology innovations were needed to match the level of robustness and cost-effective scalability that traditional interconnect technologies like SAS provide. PMC combined the knowledge gained from our SAS connectivity products, advanced SERDES capabilities, and PCIe switching IP acquired from IDT to bring a family of PCIe storage switches to market. They enable PCIe-SSD-based systems to scale, with the resiliency, programmability, and advanced diagnostics needed for mass deployment.
El Reg Why are they needed by your customers firstly and, secondly, how will end-users benefit?
Ray Jang System designers need a reliable PCIe switching solution to connect a pool of high-performance PCIe drives in a single enclosure with key features like advanced diagnostics and debug tools, as well as deeply ingrained programmability to address reliability and interoperability challenges.
Our customers also benefit from the integrated programmable processor, which allows them to enhance PCIe switch functionality and error handling with our SDK, as well as the integrated Enclosure Management solution, which simplifies development for faster time-to-market.
Systems built with Switchtec PSX consume up to 60 per cent less power than those using other PCIe switches, enabling a savings of nearly 1000 Watts per rack. Systems also require 75 per cent fewer devices than other switches in a typical flash array, allowing system designers to increase flash density, lower bill of materials costs, and improve the mean time before failure for higher reliability.
End-users benefit from the high-performance and low-latency nature of PCIe storage.
'End-users benefit from the high-performance and low-latency nature of PCIe storage'
El Reg How will servers benefit from having PCIe switching facilities?
Ray Jang The same benefits outlined above – PCIe resiliency, scalability, programmability, and advanced diagnostics – also apply to server applications for PCIe switching. End-users benefit from the high-performance and low-latency nature of PCIe storage.
El Reg How does PCIe switching relate to NVMe?
Ray Jang The PCIe standard specifies a high-speed serial transport to interconnect endpoints using ports from one to 32 lanes in size. In a multi-lane port, packet data is striped across lanes, resulting in throughput that scales directly with the overall port width. Target devices like PCIe SSDs typically utilize x1, x2, and x4 ports for direct connection to the CPU.
It's this direct, high-speed CPU connection that gives PCIe a significant performance advantage over Serial Attached SCSI (SAS) and SATA SSDs, which require the use of a separate controller to translate between PCIe and SAS/SATA protocols.
The NVMe specification leverages the PCIe bus for accessing SSDs. To improve CPU utilization and attain higher throughput and reduced latency, the NVMe standard has been designed from the ground up to take advantage of the parallelism and low-latency characteristics of PCIe SSDs. Coupled with eight giga-transfers per second (GT/s) per lane, as specified in the PCIe 3.1 standard, NVMe significantly improves both random and sequential performance.
The net result is faster access to data and improved utilization of drives. These benefits are driving the industry to build the latest generation of high-performance SSDs leveraging PCIe and NVMe. New architectures are evolving to enable next-generation enterprise storage system designs utilizing PCIe Storage Switches to maximize the performance advantages of NVMe SSDs.
Sponsored: Ransomware has gone nuclear