Sunk by 'patent troll': Iron Speed director asks 'anyone want to buy us?'
Legal woes (and cracked licence keys) cause dev favourites to throw in the towel
---
Iron Speed, a firm which provided a rapid application development tool for creating .NET apps, is shuttering itself thanks to "litigation with a patent troll", according to a letter sent to customers by co-founder and chairman Alan Fisher.
The Iron Speed designer enabled developers to create applications for web, cloud and mobile using a point-and-click interface. Customers include AT&T, Cisco, DHL, Disney, HP and the US Army, according to the company's website. Yet all this is no more, writes Fisher:
I am writing to inform you that we have decided to discontinue operations after August 31 2015.

There are several reasons for this, one of which has been the ongoing expense of litigation with a patent troll who has challenged our intellectual property. While we feel this is baseless, patent litigation is generally a multi-million dollar exercise. This has put a drain on our resources we can no longer afford, and coupled with excessive cracked key use and license sharing, our product sales have been severely impaired.

We will continue offering Technical Support through December 31 2015, but it is unlikely that there will be future software releases.

Because we are unable to issue any refunds, any customer with current software update or technical support subscriptions has been issued an additional perpetual license in his account.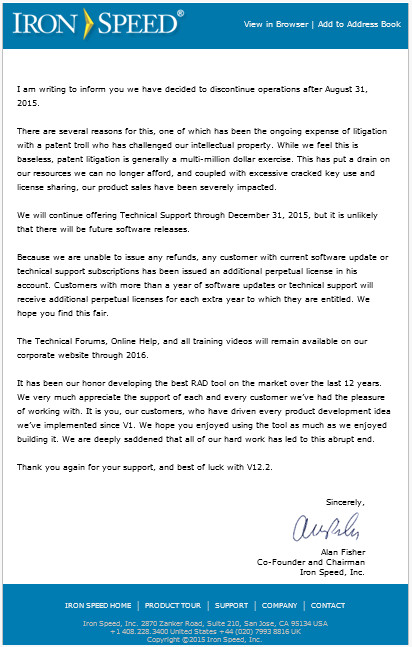 That Iron Speed letter in full
A thread on the Iron Speed forums confirms the situation and provides more details.
Although the product will not be developed further, it will still function, says former director of engineering Kirill Dmitriev:
Guys, I can assure you that Designer licenses you purchased will continue to work for years to come. Also there is no plans to release it as an open source and licensing policy is still enforced. After all it would be unfair to those who paid money for the license to give the tool for free. There is no legal issues in usage of Designer.
In another post, Kirill asks, does anyone want to buy the company?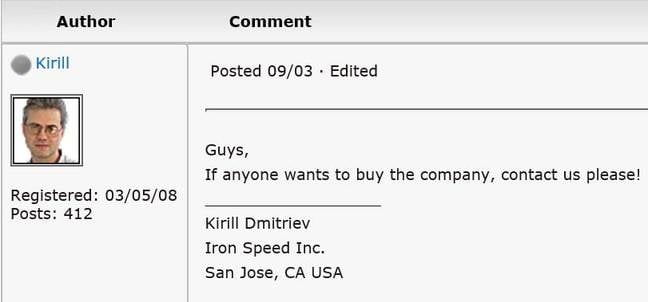 Does anyone want to buy my firm, says former director of engineering
The patent issue seems related to the way the Iron Speed designer generates applications automatically based on a database schema, removing much of the gruntwork in building applications that are essentially forms over data.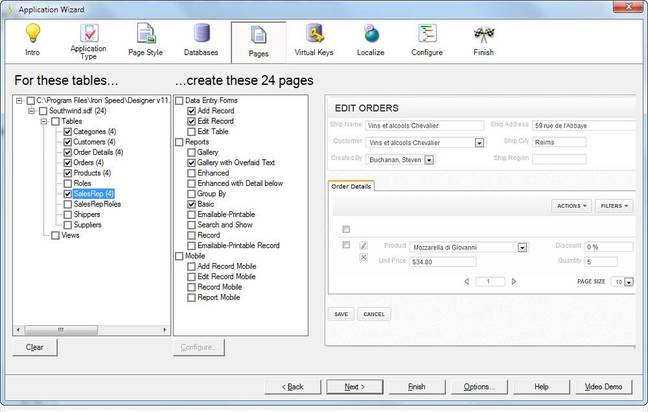 Developing an application with the Iron Speed designer
Microsoft has its own tool which does this, called LightSwitch, but this has not been updated much in the latest edition of Visual Studio, causing developers to doubt its future. Another issue with LightSwitch is its reliance on the deprecated Silverlight for desktop applications, though it can also generate HTML and JavaScript. ®