This article is more than 1 year old
Laminate this: Inside Argos' ongoing online (r)evolution
APIs not EAI maketh a business digital
Think Argos and you think catalogue: The Laminated Book of Dreams, as comedian Bill Bailey puts it, placing thousands of products from crayons to cookers within the easy reach of eager shoppers.
Go ahead, laugh it up, but that book introduced a brand new way of shopping in beige 1970s Britain. Shopping from a catalogue was the first and latest word in convenience for a people facing power cuts and lining up in the streets for their fresh water.
It struck such a nerve that the turnover of Argos hit £100m within six years.
Today, it's not the book but the internet, and especially mobile, that's driving the 40-year-old retailer's business. Online accounted for 44 per cent of everything Argos sold in the first quarter of the year, reported in June. While overall business was down to £846m, online grew by two points.
Smartphones and tablets are a growing part of the business Argos transacts that's not from the laminated book, accounting for a quarter of sales in Q1, up from 21 per cent in 2014 and 15 per cent in 2013. Argos reckons 50 per cent of all its sales now start online – via browser, tablet or phone.
Argos this year moved up the UK's web retail rankings from third to second – overtaking Apple and tucked in behind Amazon UK according to IMRG's list of the top 50 UK retailers. IMRG's data is based on stats from the retailers, with Argos reported to have claimed 738 million website and app visits during the year.
The roots of Argo's online expansion can traced to a five-year transformation plan designed to convert Argos into a digital retailer. Unveiled in 2012, the transformation plan included a £300m investment in the first three years. Where are we at the end of that phase?
Argos built a mobile-friendly website, apps for shopping via iOS and Android, and an in-shop catalogue served not by laminate books, but by but iPads.
iPads inhabit a new generation of "digital concept stores" being rolled out. Sixty of the chain's 750 shops have so-far been flipped to become digital concept stores in a makeover that often takes a matter of weeks. That makeover introduced free Wi-Fi, big screens running ads, mood lighting, minimal counters and staff gliding about in polo shirts.
Outlets have opened in branches of Homebase – the DIY chain which is also part of Argos's parent company, Home Retail Group – and also in some supermarkets belonging to partner retailer Sainsbury's. Argos opened its smallest ever store in November 2014 in London's Cannon Street Station, measuring 650 sq ft and stocking 2,000 of Argos' best-selling products, with access to 20,000 items if they're ordered online.
Argos' IT director Mike Sackman reckons the driver to much of this change on the IT side has been an API strategy. It's put the company online and mobile, helping it slough off legacy IT infrastructure and quickly develop a new website and native apps for mobile and store.
"We see APIs as a strategic piece of infrastructure, rather than having an integration strategy," Sackman told The Register. "Our API strategy has enabled us in terms of the mobile apps on the iPhone and Android and in the stores, to devise digital access to the central stock systems."
It's Sackman who is turning Argos digital. But he must do so without losing customers along the way – those who are familiar with and who love the Argos brand.
"People will be used to walking into a store and seeing a laminate catalogue – you have to invest time to help people navigate that. One of the things we will invest in is consistency of experience between your time on the iPad and your time at home and in store. Part of my job as IT director is to keep those channels consistent and make it usable," he explains.
Argos APIs are managed using software from Mashery, the startup founded in 2006 and bought by Intel in 2013 after landing $35m in venture backing.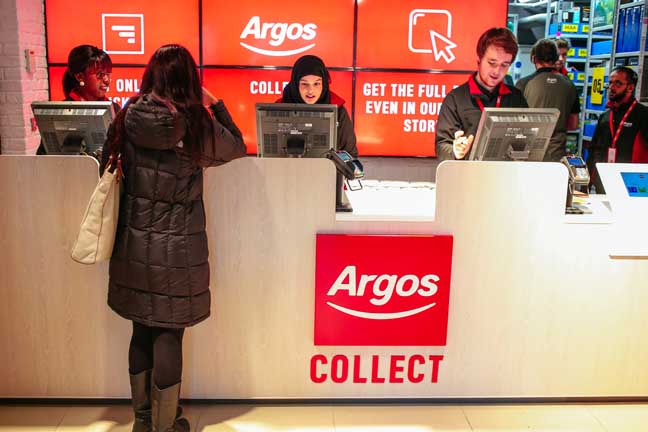 Cannon Street micro store sports the Argos digial makeover
Mashery lets firms expose their internal systems to external users and those on devices – as Argos is doing. Other customers of Mashery include US retail giant Wal-Mart and drinks-maker Coca-Cola.
What legacy is Argos straddling? Oracle Advanced Inventory Planning (AIP) system for forecast and replenishment, a homegrown product information management system in stores and a Sterling Commerce selling and fulfilment system – Sterling was bought by IBM in 2010. An IBM Homebase mainframe is in the mix, too.
These are old systems running a variety of languages and built for a more sedate trading age. But they hold data critical to the business, so go online they must. Also, Argos must be able to quickly add new functionality.
This was not a job for enterprise application integration, Sackman reckons.
"We in the IT world were taught in the pre-digital age to build enterprise message busses," Sackman says. "Conceptually, this [API strategy] is the same thing, but it lets us externalise our capabilities and let third parties access data and functionality and extend propositions to the customer."
Those third parties include payment engines – especially with Argos now partnering with eBay as a collection point – and tech and marketing agencies.