Is John McAfee running for US president? 'My campaign manager told me not to comment'
Playboy millionaire files paperwork for White House bid
---
Updated Move over, Donald Trump and Hillary Clinton. It appears paranoid wild man of computer security John McAfee is running for US President.
The website McAfee2016.com popped up on Tuesday, as well as a Twitter account for McAfee For President. The site was linked to from McAfee's official social media accounts before the posts were quickly removed. It asks for donations, and also urges people to register to vote. America will elect a new leader in November 2016.
"No comment at this time as per my interim campaign manager's orders," McAfee told The Register minutes ago – revealing a campaign is in progress.
The eccentric playboy millionaire has filed paperwork [PDF] with the Federal Election Commission to stand as a presidential candidate. "I am founding a new party yet to be announced," the form states.
"My advisors are pressing me to run," McAfee said earlier today.
It could be a complete prank, of course. The address given for his candidacy is in Alabama whereas the American software baron lives in Tennessee – although his campaign could be organized from Alabama.
The charismatic ex-boss of security software biz McAfee was last month arrested on a drink-drug rap, has made light of his apparent affinity with mind-altering substances on YouTube, and given advice on dealing drugs.
McAfee's team has hidden from view his wacky videos of him fooling around with saucy women, cigars, and a box labelled "bath salts", as well as his amazing rant against the antivirus product he created that is now owned by Intel.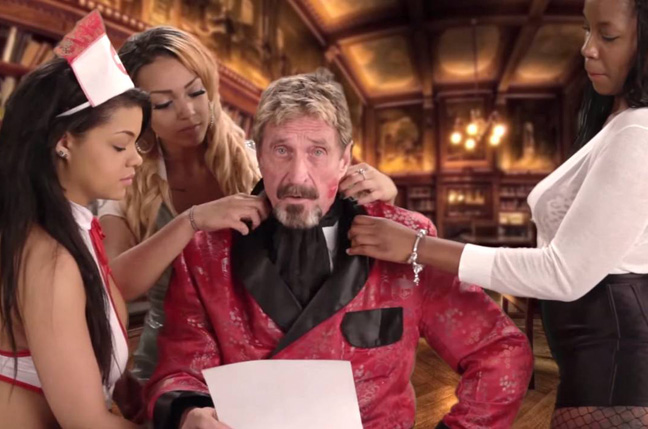 McAfee's top tips from a now private video ... How to live like a millionaire: uninstall McAfee
In 2012, while living in Belize, McAfee was sought by cops in the Central America nation as a person of interest to, in the words of a police spokesman, "allay the fears of everybody that perhaps he is indeed involved in the murder of his neighbour." McAfee has denied any wrongdoing.
We're due to learn more on Wednesday after the new iPad and iPhone madness from Apple has died down. If he does run, he'll be up against the likes of billionaire Donald Trump, Democrat Hillary Clinton, socialist Bernie Sanders, and various cookie-cutter politicians. ®
We will have our official announcement at 6pm Eastern tomorrow

— John McAfee (@officialmcafee) September 8, 2015
Updated to add at 0250 UTC, September 9
McAfee has said he is going to announce a bid for the White House, and will create the Cyber Party to do so. "I have a huge underground following on the web," he told CNN.
"I promise you I will win because I have the votes. We are losing privacy at an alarming rate – we have none left. We've given up so much for the illusion of security and our government is simply dysfunctional."