This article is more than 1 year old
Wileyfox Swift: Brit startup budget 'droid is the mutt's nuts
Blows Sony and Motorola out of water
Review If someone asked me what my ideal smartphone would be I'd say one that costs no more than £120, has 16GB of storage, at least 2GB of RAM, a 5-inch IPS screen, a removable battery, two SIM slots, space for a microSD card, the best iteration of Android available (that's the Cyanogen OS Android fork, in my opinion) and is waterproof.
There's nothing revolutionary about the Swift's design, it's just smart and well made
Wileyfox's new Swift actually fails to meet two of those criteria – the cost is £130, and there's no waterproofing. But as we'll see, considering the rest of the package, it's very easy to forgive those two failings.
In an increasingly competitive market the Swift is up against the likes of the Motorola Moto G and Sony Xperia M4 Aqua, both of which we have reviewed recently. And both of which are rather more expensive at £189 (for the 2GB RAM version) and £199 respectively.
Physically the Swift is one of the most expensive-looking cheap phones you can lay hands on. Available only in Henry Ford black it looks not unlike a Sony Xperia Z3 Compact which is no bad thing.
The signature design feature is the removable back which has a pleasant flock finish and is embossed with the Wileyfox logo and a subtle bronze highlight around the camera lens.

Volume and power buttons have a clean action and are well positioned
You see Wileyfox's handsets were designed and developed here in the UK. Indeed Wileyfox is a British-headquartered company. The devices may be made in China but, as Apple has proved, these days nobody gives a tinker's cuss where their tech toys are assembled.
Incidentally Nick Muir, the European CEO of Wileyfox, was an eight-year veteran of Motorola's European division, including its days under Google, so presumably he knows a thing or three about the budget smartphone market.
Measuring up at 141.15 x 71 x 9.37mm and weighing 135g, the Swift has the Moto G soundly beaten in the size stakes. The M4 Aqua is 2mm thinner but otherwise it too is beaten by the Swift. The Swift's ports and controls are all in, what I regard as, the Right Place. Volume and power on the right, microUSB on the bottom, 3.5mm audio on the top.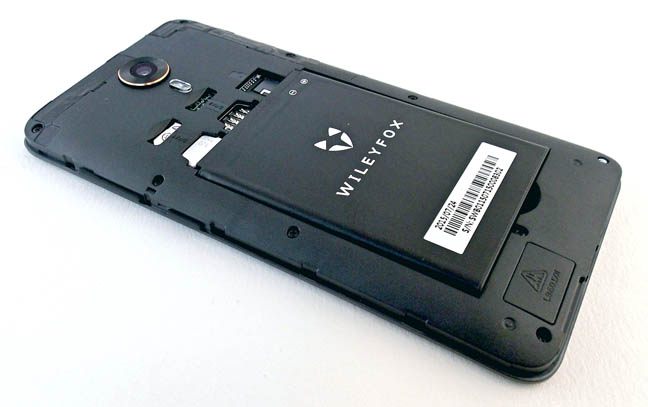 A battery that comes out – praise be. Dual SIM slots for 4 and 2G
The plastic back panel fixes in the sweet spot between secure yet not so hard to remove it feels like it will break, just like the Mk1 Moto G. Unclip the back and you'll find a removable 2,500mAh battery, a microSD card slot good for cards up to 32GB in capacity and two microSIM slots, one supporting 4G, one 2G. If you want to swap any of the cards you need to remove the battery.