This article is more than 1 year old
Wileyfox Swift: Brit startup budget 'droid is the mutt's nuts
Blows Sony and Motorola out of water
Capacity caller
That battery has a slightly higher capacity than either the Moto G or M4 Aqua's, not that it makes a huge amount of difference. Looping a 720p video drained the battery in eight hours 45 minutes, near enough the same as the M4 Aqua. Of course, if after 18 months the Swift's battery starts to flag, you can just replace it.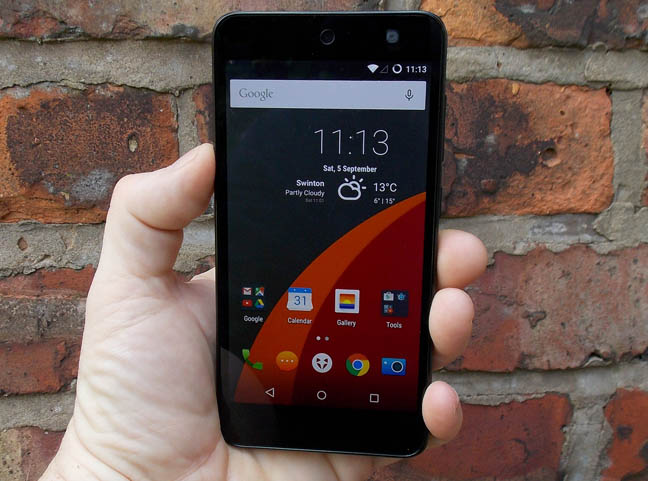 Very easy to hold and use for a 5-incher
Turn the Swift over and you'll find a rather fine 720 x 1280-pixel IPS display covered with a sheet of genuine Corning Gorilla Glass 3. As screens of that resolution go it's sharp and bright and viewing angles are very strong. Colours may be a little cool for some tastes. If that's the case you can muck about with them using the LiveDisplay settings.
When it comes to performance the Swift is very much par for the budget course thanks to the ubiquitous Qualcomm Snapdragon 410 8916 SoC which combines a 64-bit, quad-core 1.2GHz CPU and an Adreno 306 GPU. It's the same setup as the 16GB/2GB RAM Moto G offers and performs in much the same way. An AnTuTu score of 23,200 is nothing to wet yourself about but it's healthy enough.
The Swift handles games such as NOVA 3, my standard test game for budget handsets, with ease. And thanks to that 16GB of storage, you can actually instal the thing to begin with.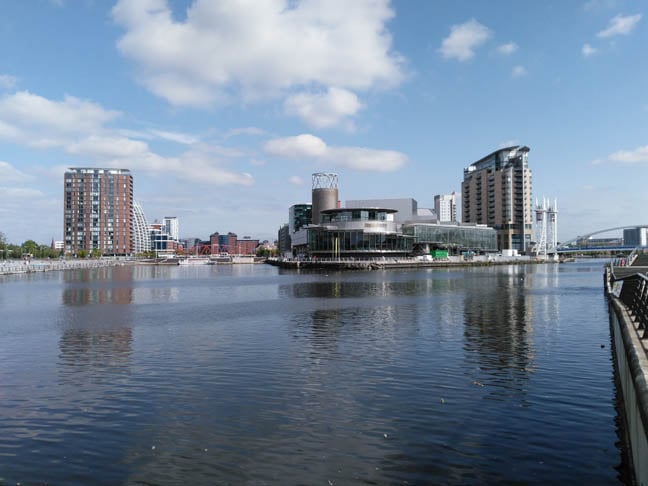 The 13MP shooter gives little to complain about. Click for a full-resolution image
The main camera in the Swift is 13MP Samsung affair with a dual LED flash. Again there is nothing radical about it, or the 5MP selfie-camera on the front, but it takes a perfectly good picture even in less-than-perfect light. Video can be recorded at 1080p 60fps using either camera and you can choose your output codec. Both cameras are very fast.
Consider this: two years ago the Mk1 Moto G cost £5 more and featured a pretty terrible 5MP camera with no flash. Budget smartphones have come a long, long way in 24 months.
Rather than offer the usual Android Wileyfox has opted for Cyanogen 12.1, a fork based on Android 5.1.1 To cut to the quick, Cyanogen is just better.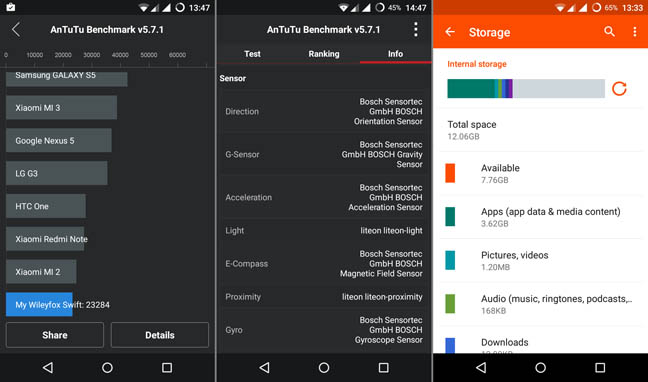 AnTuTu score typical for Snapdragon 410 with 2GB RAM (left). All important sensors present and correct (centre). Plenty of storage, rare for a sub-£150 Android (right). Click for a larger image
It's Android but with all the extra security and management features that Google should offer in stock but doesn't. The important stuff is bundled together into a system called Privacy Guard which allows you to regulate what information apps can and cannot access. Just seeing what data the Facebook app wants to access can make your blood run cold.