This article is more than 1 year old
Wileyfox Swift: Brit startup budget 'droid is the mutt's nuts
Blows Sony and Motorola out of water
Private line
Bundled into Cyanogen OS comes some quality Android apps like the Truecaller caller ID and blocker and the AudioFX sound management suite. And there is native support for nearly every audio and video codec known to man. The Cyanogen gallery app is worth a mention too. It can be connected directly to your Flickr, Dropbox, Facebook and Google accounts but without wanting to share your stuff with all and sundry by default.
I could bang on about how good Cyanogen OS is for ages, it's that good.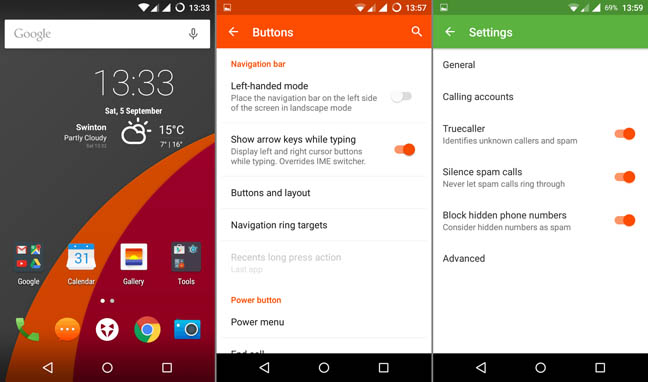 Cyanogen OS 12.1 on stock form. Hoorah (left). The OS is highly configurable (centre). Truecaller comes bundled. An excellent dialer app (right). Click for a larger image
Speaking of audio, the Swift has two sets of perforations in the back panel and two actually one loudspeaker built into the rear under them. Sadly, the left hand one didn't work on my review device but Wileyfox tell me this was just a pre-production glitch. Assuming twice the volume and stereo the Swift should sound just fine. It isn't all that bad in mono.
Unlike some budget devices the Swift boasts a full range of sensors though it lacks an NFC chip and the WiFi radio is a 2.4GHz-only component. There's no support for USB On-The-Go hosting which was just a little disappointing.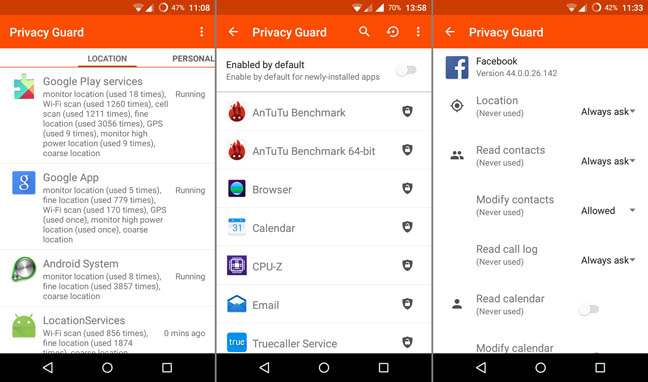 Privacy Guard should really be part of stock Android and reveals what's accessing what, when, how many times and more.
Click for a larger image
Throughout my testing the Swift demonstrated impressive signal reception, both cellular and Wi-Fi, and call quality (there's active noise cancellation built-in) was tip-top.
There's an FM radio too. To seal the deal, Wileyfox offers a selection of quality matching cases and earphones as well as a £9.99-a-year screen replacement service and a £9.99, one-year extension to the standard two year warranty.
Incidentally, if the Swift sounds just a little too bargain basement for you, Wileyfox will be releasing a companion device called the Storm in October. For £199 you'll get a 5.5-inch 1920 x 1080-pixel screen, Snapdragon 615 innards and a 20MP camera. I'm looking forward to getting my mitts on that, though apparently the battery is fixed.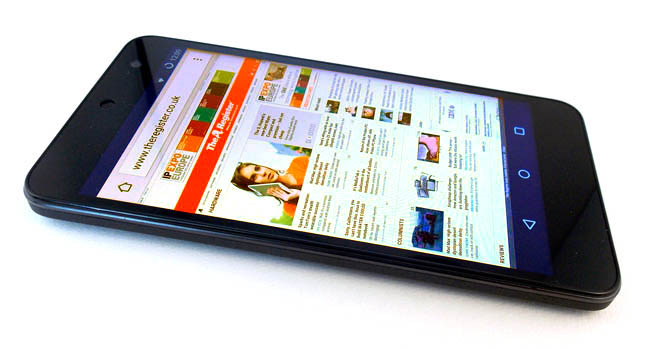 Designed by a British company and built in China, with looks and a feature set that suggests it should cost twice the price
The Reg Verdict
While the Xperia M4 Aqua only narrowly beat the Moto G as the best sub-£200 Android smartphone the Swift blows them both into the weeds. With 2GB of RAM, 16GB of storage, a removable battery, a brace of decent cameras, a good 720p IPS screen and Cyanogen OS running the show, Wileyfox could easily sell the Swift for half as much again as it is actually asking.
Absurdly good value for money at £130, it goes on sale on 22nd September 2015. ®

Wileyfox Swift: Brit startup budget 'droid is the mutt's nuts
Android smartphone with stock Cyanogen OS, 5-inch 720 x 1280-pixel display with Gorilla Glass 3, featuring a quad-core Snapdragon 410 CPU, 16GB of storage, 2GB of RAM, and a 13MP camera