Presenting Mangstor's NVMe superfast flash storage pocket rocket
In investment terms, it's the most bang the industry could get for $4m
Expansion prospects
A single NVMe Fabric array can be expanded one node at a time to scale up to 32TB and scale out "from 10s to 100s of TB Flash deployments".
A Titan storage software stack turns industry-standard servers with MX6300 NVMe solid-state devices into all-flash shared storage arrays. It provides block access and optimises "the path from the network to the flash storage, reducing CPU overhead in the storage array, resulting in maximum bandwidth at the lowest latency".
This software dynamically provisions flash storage volumes for attached servers running Linux or Windows.

Mangstor NX6320 front view
Mangstor has developed a driver to be installed on the "storage initiator" application servers which allows unmodified applications to see the remote NVMe storage as a local device. In other words, it looks like local direct-attached storage (DAS) to applications.
When an industry standard driver for NVMe over Fabric is developed, Mangstor said its NX6320 system will be fully compatible with it.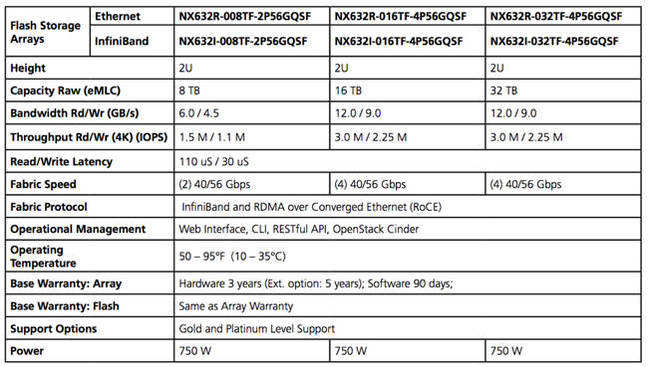 NX6320 configuration table
For disaster recovery there is native per-volume, site-to-site replication across 10, 40, and 56 Gbit/s links.
EMC's all-flash DSSD array will use NVMe across a PCIe fabric. It will be interesting, to say the least, to see what its latency will be.
The NX6320-Series management stack integrates with Openstack Cinder for customers deploying cloud services based on OpenStack.
Mangstor was incorporated in 2012 in Austin, TX, and has had a single $4m funding round, which is niggardly funding by current standards, especially for a hardware shop.
Get an NX6320 product brief here [PDF download]. The NX-Series storage array, with Mangstor NVMe SSDs, is sampling now.
A 2.7TB MX6300 PCIE flash card costs $14,850 (Colfax Direct). In general Mangstor PCIe flash card pricing is around $5.50/GB. We don't have any information about NX6320 pricing. ®