This article is more than 1 year old
Apple's iPad Pro: We're making a Surface Pro WITH A STYLUS over Steve Jobs' DEAD BODY
12.9-inch slab has Microsoft-style keyboard – and pen
Pics With the announcement of the 12.9-inch MaxiPad iPad Pro, Apple has finally mounted its challenge to Microsoft's Surface Pro.
Boss Tim Cook announced the iOS-powered enormo-slab Wednesday at a special event in downtown San Francisco before giving way to marketing honcho Phil Schiller, who disclosed the specs and details of the biggest iPad yet.
The 12.9-inch iPad Pro will offer a 2732 x 2048 resolution totaling 5.6 million pixels with a variable refresh rate designed to maximize what Apple says is a 10-hour battery life.
The tablet is powered by a new 64-bit ARM-compatible A9X CPU that has double the memory bandwidth and double the flash memory bandwidth of the previous generation, and storage capacities ranging from 32–128GB. The 128GB model will also have the option for LTE mobile broadband data, while other models will be limited to 802.11 ac Wi-Fi.
The iPad Pro will hit shelves in November, with the 32GB model costing $799, the 128GB model $949, and the 128GB LTE option priced at $1079.
The tablet will be offered in silver, gold and space gray finishes.
Other features touted by Schiller were improved GPU and CPU performance (Apple claims the CPU is 1.8 times more powerful than the iPad Air 2 and the GPU two times more powerful) and four speakers touting three-times-louder volume.
Schiller said that the iPad Pro was the product Apple had in mind when it baked multi-tasking capabilities into the new version of iOS.
Isn't… isn't… isn't that the Surface keyboard on the iPad Pro? GAME OVER, MICROSUX #AppleEvent pic.twitter.com/M9l8lDcOK5

— The Register (@TheRegister) September 9, 2015
Apple will also offer some peripherals that should be familiar to owners of PC and Android tablets. The Apple-branded smart keyboard will offer an "Apple woven fabric" finish and let users type with a physical keyboard. It carries a $169 price tag.
New iPad Pro accessories: a keyboard case and a stylus, Pencil. What was it that Jobs said about using a stylus...? pic.twitter.com/RAIzoTw9Un

— Tim Bradshaw (@tim) September 9, 2015
Those who need a stylus (something Apple co-founder Steve Jobs loved to ridicule, by the way) will now have the privilege of paying Cupertino another $99 to get the Apple Pencil, a Lightning-powered stylus Apple says will allow more precise control when using drawing or CAD applications. It can detect pressure and tilt, and pass that along to drawing programs to use – just don't touch the screen while sketching with the Pencil. Awkward.
Microsoft, I'm so sorry. Apple has even added a pencil stylus to the iPad. #AppleEvent pic.twitter.com/w94eEPN6ik

— The Register (@TheRegister) September 9, 2015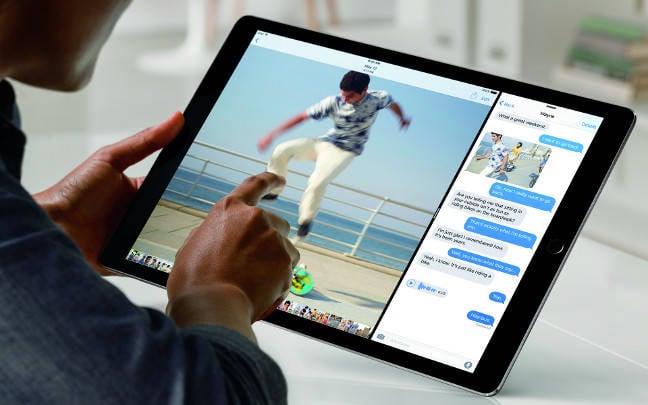 Apple claims the iPad Pro was a big reason it added split-screen and multitasking to iOS
The iPad Pro will, no doubt, be targeted largely at enterprise users or people with cash to burn. Apple made a point of showing off business tools from Microsoft and Adobe in its demos of the tablet. Cupertino has been partnering with traditional IT bigwigs IBM and Cisco to get the iPad line into their business channel pipelines.
Room goes absolutely silent as Apple introduces someone from Microsoft. It's like the Intel move all over again #fapple

— Kieren McCarthy (@kierenmccarthy) September 9, 2015
There's a Microsoft dude on stage talking about Office. Like he's glad to be there. Like being Apple's sidekick is a good gig #AppleEvent

— The Register (@TheRegister) September 9, 2015
The introduction of the iPad Pro also brings a shakeup to the iPad line as a whole. Apple now intends to drop the iPad Mini to its entry-level spot with a $269 price tag and a new model updated with the iPad Air 2 processor and GPU specs. The iPad Air 2 will now be the mid-range option, and the iPad Pro will be the premium line. ®