Third time lucky? Plucky upstart Infinidat plonks down monolithic array
Honking great flash cache speeds all-media-seeing controller engines
Competition
Its competitive wins have been mostly against EMC, followed by IBM, HDS and then HP, with Infinidat saying its customers have an average 6:1 floor space consolidation and a 65-80 per cent cost reduction.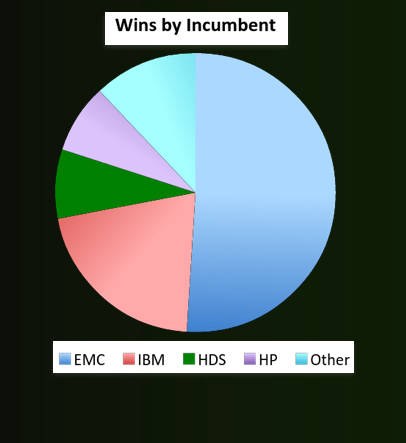 In fact we were told that 8 x VMAX racks can be condensed to a single Infinidat rack.
The primary workloads are, in order, VMware, Big Data, backup, Database and analytics, and, prepare to be surprised, KVM and Openstack.
Future hints
Infinidat wouldn't say what was on its roadmap, but we picked up some possibly elliptic hints.
Arseneau pointed out that people may be repulsed by the fees that can be associated with a hypervisor. Carmody said the approach to bear in mind was this: "Make my storage cheap enough so I can afford to store everything forever."
We were told that the architecture doesn't stop at three controller nodes; three is the minimum needed for resiliency.
"We're working very closely with Samsung and Intel ... we're talking to Intel about its entire storage roadmap ... Intel is a sleeper company for storage innovation," said Carmody. So that brings 3D NAND and Crosspoint memory into the frame.
Infinidat is interested in system designs which are more converged in the future, but not hyperconverged, by which we think it means an approach similar to EMC VCE's vBlocks.
Where are we?
It seems pretty clear that Infinidat has re-invented the monolithic array and has scope to expand upwards, and also sideways into converged vBlock-type systems. Other suppliers and many analysts think all primary data is moving steadily off disk and hybrid flash/disk arrays into all-flash arrays.
Infinidat doesn't just beg to differ. It says that, at its end of the market, that notion is plain wrong.
Because of its data distribution scheme and sophisticated caching it can bypass the disadvantages of current monolithic arrays and build its business by replacing them with Infinibox', and yes, that does mean a rip-and-replace event. With more than 100 customers and counting the message is clearly getting through where it matters.
VMAX, DS8000 and USP (HDS and HP) accounts are at risk from an Infinidat invasion.
All software licenses are included. As a pricing indication 2PB of usable capacity per rack costs around $1/GB, meaning $1,000/TB and $1 million/PB. Infinidat said the array delivers all-flash performance at HDD cost and has disruptive pricing. I think we better be prepared to believe it. ®
Bootnote
* 3TB and 4TB disk drives are also available. 8TB and 10TB drives are coming. Drives are sourced from WD/HGST and Seagate.