Admiral Michael S. Rogers, commander of the United States' Cyber Command, has released his vision statement for the US's warfighting arm in cyberspace, coincidentally advocating a much larger role for his command and agencies in the national defence apparatus.
Rogers, who is also head of the NSA and the Central Security Service, capitalised the word 'Vision' when he delivered his thoughts in a 14-page statement (PDF) titled "Beyond the Build: Delivering Outcomes Through Cyberspace".
The 'Vision' does not depart from the Pentagon's cyber-warfare strategy published earlier this year, but Rogers did more to acknowledge the difficulties facing the US Cyber Command (USCYBERCOM) as it prepares to ratchet up their cyberspace operations.
Rogers warned that much of the contemporary technical expertise now "resides outside government and often outside [the US]" although the Department of Defense (DoD), to whom USCYBERCOM is ultimately subordinated, and the American intelligence community "had an early advantage in cyber capabilities".
While the US "is working hard to maintain its edge over potential adversaries in cyberspace" the USCYBERCOM head stressed that the nation must acknowledge it now has "peer competitors" in the cyber domain:
States, groups, and individuals are using and developing sophisticated capabilities to conduct cyber coercion, cyber attacks, and cyber exploitation against the US and our allies.

The targets of their efforts extend well beyond government and into privately owned businesses.

US Cyber Command, teaming with federal, foreign, and industry partners, will help to mitigate, halt, and attribute acts of disruption and destruction and campaigns of cyber espionage; dissuade adversaries from malicious behavior; and strengthen the resilience of DoD systems to withstand attacks.

In appropriate circumstances, and on order from the National Command Authority, we must be able to conduct offensive cyber operations.

US Cyber Command will provide decision makers and operational commanders with capabilities and options that can be integrated with other elements of US national power to shape our operating environment in peace, crisis, and war.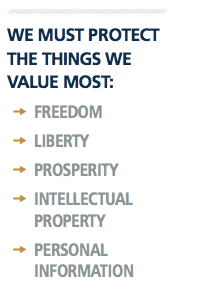 Digital connectivity has radically disrupted classical approaches to military art, Rogers claimed. The Admiral stressed that the cyber mission set must be operationalised to optimise its troops skill set, a skill set which was fairly recently put to shame by reservist hackers.
To achieve this, Rogers advocated for Cyber to be more concretely established as the fifth domain for military conflict, joining the land, maritime, air, and space domains:
We must build the capacity of the Cyber Mission Force and enable the partnerships so vital to its success.

Our capabilities should be brought to a level where they are as trained and ready as any carrier strike group, squadron, marine air-ground task force, brigade combat team, or regimental combat team.

Our cyber teams will be tangible and operationally ready to execute their assigned missions.

To do this they require platforms, tools, training, and infrastructure, just like maneuver elements in all other domains.
USCYBERCOM is additionally responsible for protecting the .mil domain, though likely not at the user-facing end of maintaining adequate SSL certification – which seems to have been ignored at the time of writing.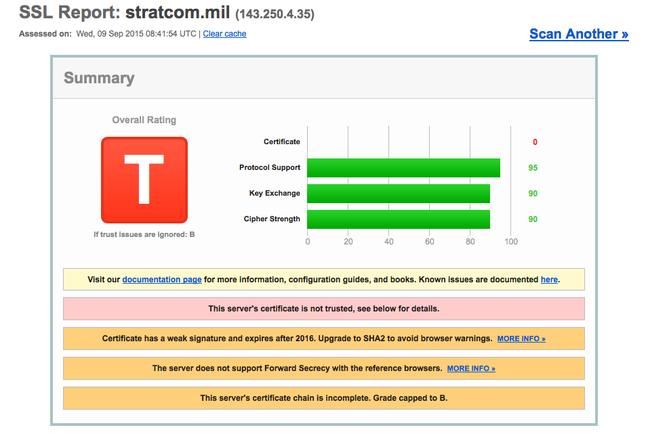 SSL Labs on the "untrusted" https://stratcom.mil