This article is more than 1 year old
Feeling ripped off by your ISP? It's getting cheaper to pipe your packets globally
Unless you live in Australia
The cost of IP transiting – the cost to transfer internet data across ISPs and other large public networks – continues to fall. This mean it's getting cheaper to send webpages, messages and other traffic. London has seen a 22 per cent price drop to just $1 per Mbps per month.
As a global average, in the past three years, the price for sending traffic across networks has fallen by 14 per cent annually, according to Telegeography.
London comes out as the cheapest of all international hubs, linking up Europe, Africa, and parts of Asia. It is closely followed by Los Angeles and Miami, which act as traffic hubs between Asia and Latin America, respectively. Both saw prices fall 14 per cent in the past year.
At the other end of the scale, however, the relatively remote Australia comes with a cost: $18 per Mbps per month for a 10 GigE port in the second quarter of this year, although that still represents a fall of 10 per cent.
"Prices have fallen much slower and transit is more expensive in regions that remain largely dependent on long-haul links to Europe or the US to gain access to international connectivity," said Telegeography. Sydney for example exchanges most of its traffic in Los Angeles.
In terms of lowest falls, Brazilian hub Sao Paulo saw its prices go down just five per cent, costing $16 per Mbps per month. Sao Paulo routes almost all its traffic through Miami, although that may change slightly with a so-called anti-NSA cable that is being planned from Brazil to Portugal.
Since we last reported on the submarine cable a little under a year ago, the Telebras-led plan appears to be actually moving forward (some felt it was dead in the water, not least because it won't stop the NSA from tapping it).
Just a few months ago, the EC agreed to invest US$28m into helping make the pipe a reality. The original plan for it to go live in 2016 was way off however. Earlier this year, the Brazilians promised 2017; now it looks like 2018 at the earliest.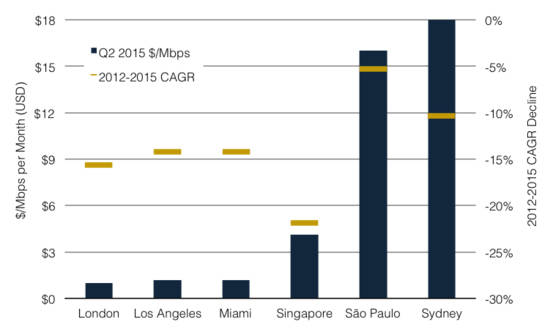 Some price falls are smaller than others. Stats by Telegeography.
So why should we care about these prices?
IP transit prices are a critical measure of the overall health of the internet. Almost all traffic has to be handed off from one network to another at some point, thanks to users pulling information from servers all over the world.
As the internet has grown, so the price of IP transiting has fallen. The lowest costs can typically be found in the United States thanks to vast infrastructure. Back in 1998, the cost was a monstrous $1,200 per Mbps but it has fallen every year since, sometimes by as much as 50 percent in a single year. In 2015, it now stands at just 63 cents per Mbps.
This is good news for internet users and companies, as it means the cost of getting and providing services goes down (think Netflix). The vast majority of companies do not have their own networks and instead rely on buying services from those that do – so falling prices is good. It aides competition and hence provides more choice.
What most concerns those who follow the market now is the wide disparity in prices – such as the 18 times higher cost of Sydney to London. But TeleGeography analyst Erik Kreifeldt said there may be some good news: "As carriers expand IP networks and distributors push content closer to end users, ISPs in remote markets will become less exposed to those costs." ®