This article is more than 1 year old
Cuffed Texan woman holsters loaded gun IN VAGINA
Hidden .22 was fully loaded and had one in the chamber. Much like the suspect
A Texan woman cuffed for possession of methamphetamine was packing a "fully loaded" handgun inside her vagina, according to Waco cops.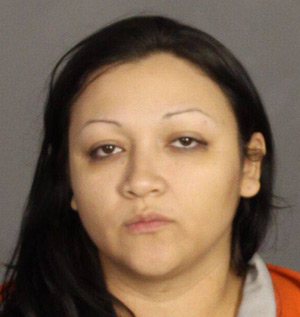 Ashley Castaneda poses for Waco Police Department
A traffic violation prompted officers to pull the car in which Ashley Castaneda, 31, and Gabriel Garcia, 30, were travelling on Monday night. Inside, they discovered 2.7g of methamphetamine under the driver's seat and 29.5g of the same in Castaneda's purse.
Charged with "Possession of Methamphetamine in a Drug Free Zone", the pair were offered a lift to jail. During transportation, Castaneda admitted she had a firearm concealed in her lady parts.
"Officers immediately stopped and a female officer searched Castaneda discovering she had in fact placed a loaded Smith and Wesson pistol inside her body cavity," Waco Police Department explained.
It added: "The weapon had a round chambered and a full magazine of bullets."
The perp now faces an additional charge of "violating state concealed firearms laws", as Reuters put it.
Police say Castaneda 'fessed up because she was afraid the .22 calibre semi-automatic might discharge. Sergeant Patrick Swanton said: "It is conceivable that the gun could have gone off inside our suspect and that would have been deadly because of the proximity to internal organs."
In 2013, an Oklahoma woman busted on drugs and firearms charges was found to have holstered a Freedom Arms .22 revolver down below, although she was rather less willing to surrender her firearm. ®