Sounding off
Of course, IBC isn't all just about the pictures. Last year I looked at DTS and its object based audio systems, which now include all the tools for a complete end to end production chain. The audio format – MDA, or multi-dimensional audio – is licence free and it told me it aims to be an "object equivalent of PCM".
They've also been working with the University of Salford to see how the technology can help those with hearing impairments.
In short, with an object-approach, that perennial bug-bear of modern TV drama, the loud background music, can be toned down by the viewer, or the level of dialogue raised.
DTS and Dolby aren't the only people in the object audio game, either. Fraunhofer is working on MPEG-H audio; the same people who created many other MPEG audio standards, and MPEG-H audio provides traditional stereo and surround, and well as audio objects, which will enable mixing in the home, or selecting specific tracks, like commentary or team coaches, just like the in DTS demo last year.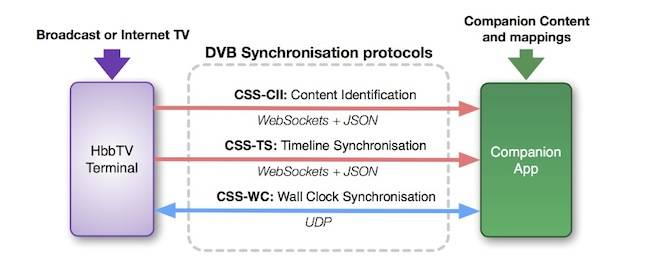 With DVB-CSS, content on a second device can be perfectly synchronised with the TV
Another neat trick – and one also seen in a BBC R&D demo on the DVB stand – is with audio description. On the face of it, that's nothing new. But MPEG H audio and the DVB's CSS (Companion Screens and Streams) standard mean that it doesn't have to be limited to the main playback device. Instead, the audio description can be accessed via a tablet or other device, but kept in perfect sync.
With WRC–15 coming up, not to mention the capacity demands of higher resolutions and HDR, getting content to people preoccupies some of the best minds.
According to the DVB, with the likely demands of new services, and the loss of 700MHz spectrum, there needs to be an average improvement of 1.8 times in efficiency for terrestrial broadcasting.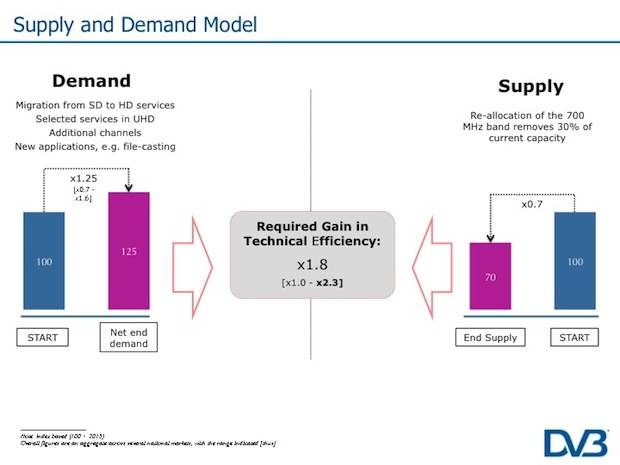 Terrestrial TV is going to need a big improvement in efficiency to cope with changing needs
Some Reg readers will, as ever, say "But can't it all be done over the internet?". One interesting fact I learned at IBC is that though iPlayer accounts for just two per cent of BBC audiences, it gobbles up 12 per cent of the total amount they spend on distribution. No one sees broadcasting going away in the near term. Streaming has to get a lot better first.
That's one of the things that Akamai is working on, and it showed an impressive demo using a hybrid streaming system that combines UDP with HTTP, plus some 'secret sauce,' the fruits of their acquisition of Octoshape.
In the brief demo I had, it certainly managed to get an impressive amount of data to the streaming client. Standard HTTP streaming pulled down 5MB of data in sixteen seconds, while the hybrid solution doubled that in a quarter of the time.
On the face it, there's a lot of potential not just for streaming higher quality, but for better performance over low quality links.
From some perspectives, better streaming over low quality links isn't always a good thing, though. As content protection firms Irdeto and Civolution both explained, better broadband and new codecs like HEVC make it easier than ever for people to re-stream material.
Just a few years ago, it would have been impossible for home users to capture and stream from their set top boxes in real time with decent quality.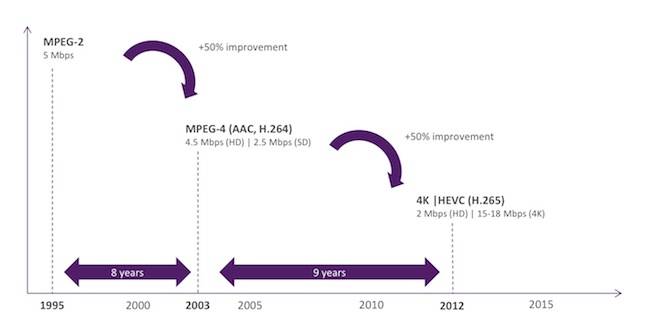 As compression has improved, it's made illegal re-streaming much easier
Now, there's a whole industry built on illegal re-streaming, with web sites that can easily take in the less savvy consumer who assumes that the box they get with their first year's "internet TV" subscription is legit. Pay $500 and you'll get the box, plus over a hundred sports channels from round the world, and a video on demand library that even includes films still in cinemas.