LTO, the world's most popular tape format, has a 15TB generation-7 Ultrium specification available for drive and media manufacturers.
Linear Tape Open (LTO) represents a trio of technology provider companies: HP, IBM and Quantum. It works with them and tape suppliers like Fujifilm to develop tape media and drive specifications. We can be fairly confident LTO-7 media and drives are technically feasible and will come to market, probably in early 2016,
The current LTO-6 generation has a 6.25TB compressed capacity, with compression meaning a 2.5:1 ratio, and, therefore, a 2.5TB raw capacity. LTO-7's raw capacity is 6TB. LTO-6's compressed data transfer rare is 400MB/sec or 160MB/sec raw. LTO-7 will reach 750MB/sec compressed (300MB/sec raw).
The LTO organisation released a roadmap last year and, referencing it, we can see it has not met the capacity target for LTO-7, which was 16TB compressed, though it has surpassed the 733MB/sec compressed data transfer rate.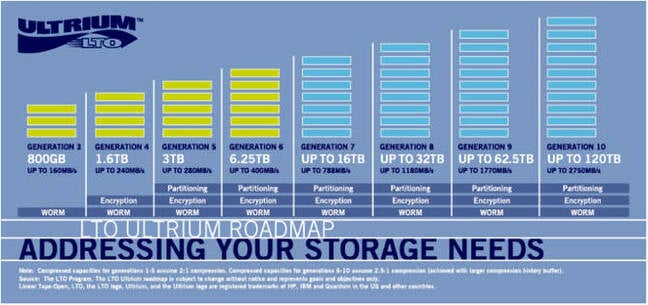 LTO Ultrium roadmap from 2014
The leap in capacity from LTO-6 has been accomplished with an improved tape media specification with stronger magnetic properties, and by adding twice as many read/write heads with improved servo format to achieve a higher track density.
Traditionally, any LTO generation is backwards-compatible with the previous generation at least, and maintains all the previous generation's functionality, such as LTFS drag-and-drop file access in this case.
El Reg has added suggested availability dates to this roadmap as well as an imaginary LTO-11 format which might come into being, although there is no LTO information about this at all. It is our supposition entirely.

El Reg view of LTO roadmap with suggested availability and potential LTO-11 format
Quantum says LTO-7 technology is scheduled to be available in its Scalar i6000 and Scalar i500 libraries in December, with other platforms following, subject to compliance verification. It will begin to take orders in the fourth calendar quarter of 2015 and currently offers an LTO-7 technology prepurchase programme for interested customers.
Samsung demo'd a 16TB SSD at the Flash Memory Summit in August, the first time, we think, an SSD has shown the potential for its raw capacity to exceed a tape cartridge's compressed capacity.
More LTO-7 information will be available later this year, specifically at Storage Decisions (New York) and Supercomputing (Austin) in November, and GVExpo (Washington, DC) in December. Find conference dates and other information here. ®