First look Microsoft has rolled out Windows 10 Mobile build 10536 as part of its Insider Program Preview.
It is likely that this build is close to the first full release, since the company has also sent out invitations to an event in New York on October 6, at which we are promised "exciting news about Windows 10 devices." Plausible candidates are a new Surface Pro based on Intel's Skylake CPUs, an updated Microsoft Band, and/or new Lumia phones.

Windows 10 Mobile, the official name for Microsoft's forthcoming smartphone OS, is not so much an upgrade to Windows Phone 8.1, but rather a replacement operating system with the Silverlight runtime included to maintain compatibility with existing apps. In line with Microsoft's "One Windows" strategy, it now also runs Universal Windows Platform applications, based on the Windows Runtime as found in the PC edition of Windows 10.
Windows Phone suffers from small market share and has been under a further shadow since Microsoft's July announcement of "the reduction of up to 7,800 positions, primarily in the phone business," and a $7.6 billion writedown of the value of its Nokia acquisition.
Reading between the lines, it seems the company has all but given up on the mainstream phone market, but will continue with Windows 10 Mobile as a productivity and business-focused device. At IFA in Berlin earlier this month, Acer announced a phone that fits this concept, the Jade Primo, which was presented as "Your pocket PC."
I installed the new release on the 5-inch Lumia 830, with the update taking a full working day to download and install. Installation is not complete until you update the apps, also a lengthy and error-prone procedure.
Performance is noticeably better than the previous build, though with occasional jerkiness in the user interface. Pinch and zoom now works correctly in Maps. Settings for Quiet Hours, allowing you to silence notifications at pre-set times, have been restored. I saw some unexpected behavior (this is still a preview), such as the on-screen keyboard not always popping up when it was needed, and annoying errors in Groove Music.
A feature called one-handed mode is now enabled on all device sizes. The idea is that with the phone in one hand, it is hard to reach the top of the screen, so if you press and hold the Windows button it slides down within reach. I like this feature and it shows that Microsoft has not completely given up on its phone customers.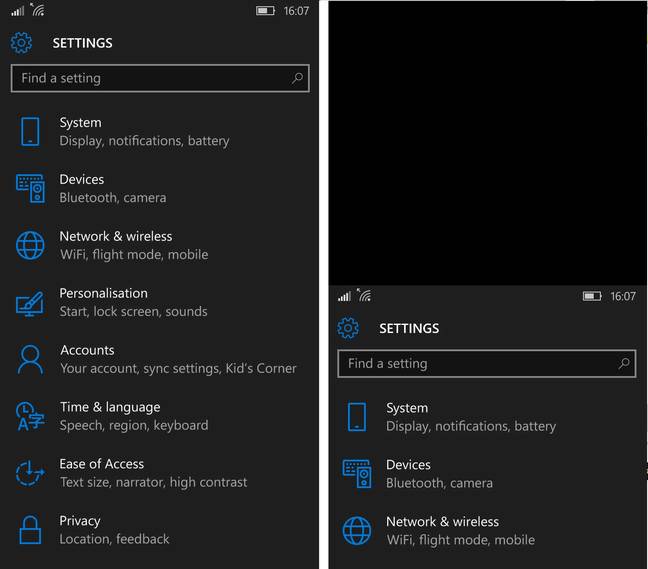 One-handed mode slides the screen down so you can reach the top controls
The Office Mobile applications (Word, Excel, and PowerPoint) are no longer marked as preview and are impressive, though the way the title bar, ribbon menus, and on-screen keyboard slide in and out of view takes getting used to. When you type, the title bar disappears, and you have to press the Back button to recover it. Press the Back button again and it takes you completely out of the app, and using the same control for both in-app navigation and task switching feels uncomfortable.
When I tried using an external keyboard with Word these problems were worse. Normally you would expect typing on a real keyboard to dismiss the one on-screen, but it does not always work, and the on-screen keyboard kept popping up and filling most of the screen. Another issue with Office Mobile is that it does not work well in landscape mode unless you have a large screen, since the ribbon occupies nearly half of it when on view. Perhaps you should not try to use a smartphone like this; but it seems to be encouraged by the richness of the Office Mobile apps, as well as the concept of Continuum, where you can use your phone like a PC with an external display, keyboard, and mouse.
Voice input is on offer everywhere in Windows 10 Mobile. The recognition engine is rather good, but Microsoft needs to work on other aspects. For example, if you dictate into Outlook Mail or Word, it inserts a full stop whenever you pause. That is unfortunate, since stopping to think is common when dictating a longer piece of text.
There is text-to-speech as well, but this is not as easy to use as in Windows Phone 8.1. It used to be possible to set Cortana to read text out loud, with voice commands for replying or ignoring. These features are still present, but now part of Driving Mode, which you can only enable by connecting a Bluetooth device. That is a shame, since there are other scenarios where this is useful.
If Windows 10 Mobile devices are coming next month, we are unlikely to see many feature changes before release, though bugs may be fixed and performance improved. This release gives a good sense of what the new Windows Phone is like. The OS has a different feel from Windows Phone 8.x, with smaller text and more fiddly operation, mitigated by richer applications (especially Office Mobile) and more commonality with Windows on PCs so that Windows 10 users will find it familiar. Two steps forward and one back. ®
Similar topics