This article is more than 1 year old
Ahmed's clock wasn't a bomb, but it blew up the 'net and Zuckerberg, Obama want to meet him
Teen's arrest goes viral, support pours in from the web
Zuckerborg invites Ahmed to the hive
Facebook boss Mark Zuckerberg also extended the young engineer an invite to visit Silicon Valley.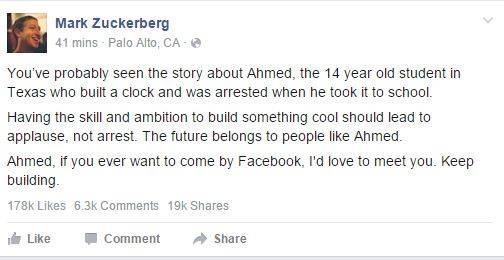 Is a job offer on the horizon?
Mythbuster Grant Imahara personally identified with the budding engineer:
Absolutely tragic. When I was his age, I took everything apart too and tried to make things. http://t.co/73Y8XQwlqM #IStandWithAhmed

— Grant Imahara (@grantimahara) September 16, 2015
My room looked exactly like his with soldering iron, computer, circuit boards. Some homemade, some cobbled together. #IStandWithAhmed

— Grant Imahara (@grantimahara) September 16, 2015
But the best invitation of all came from JPL, who has offered Ahmed the best driver's ed lesson ever:
Ahmed, I'd be happy to show you how we drive the Opportunity rover. Come visit us at JPL any time. #IStandWithAhmed https://t.co/VtesUugxj3

— Mike Seibert (@mikeseibert) September 16, 2015
The Irving Independent School District, meanwhile, finds itself facing a firestorm of criticism for overreacting to a harmless science project.
It's legal 4 white guys to walk around like this in Texas but a Muslim kid is arrested for a clock #IStandWithAhmed pic.twitter.com/BU1PY2iLFy

— Jade Helm Commander (@Anomaly100) September 16, 2015
"Unfortunately, the information that has been made public to this point is very unbalanced. We would provide additional factual information about the situation; however, we feel it's important to protect the student's right to privacy and we will abide by FERPA, the federal law that protects student information," the district said.
"If the family grants us written permission to release information, we will be happy to provide additional facts to the media at that time."
Irving Police said in a statement [PDF] that Ahmed will not face charges and the city's chief of police will meet the student and his father. ®