All in all, it's just another hit in the stalls: Roger Waters The Wall
Comfortably numb in the cinema
Driving ambition
As a cinematic experience, the 4K shooting vividly captures the stage projections which feature new visuals from New York-based filmmaker and artist Sean Evans who worked closely with Waters as creative director and animator for the tour.
Richard Turner, Roger Waters & The Wall
The audiences were banned from bringing cameras to the stage show – to avoid the projections from becoming washed out by flash photography. This, no doubt, explains why the set visuals looked so punchy, delivered by 40 Panasonic projectors – either the PT-DZ21KE or PT-DS20KE models – each capable of pumping out 20,000 lumens.
Audience shots appear frequently throughout the movie, also directed by Evans, and the absence of cameras creates an air of concerts from a bygone era, when folk just watched and waved, sang and swayed, rather than distancing themselves from the performance by gazing through a smartphone LCD screen.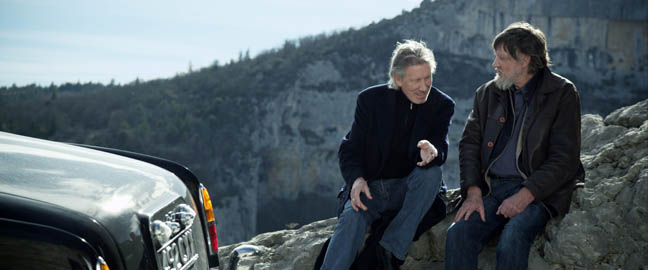 "Yes, I remember it well..." Waters and Rawlinson reminisce, sort of
What the concert goers didn't get to see was the entirely separate story that's now been woven into this cinematic production. It kicks off with Waters taking the wraps off his 1961 Bentley Continental S2 and beginning a journey into Europe. The concert footage is intercut with his progress as he visits war memorials pertinent to his family and other areas of significance.
With various companions during his travels, including old school mate Andrew "Willa" Rawlinson and later his kids, Harry, India and Jack, we get a glimpse of what drives Waters and, understandably, just how pissed off he is that not only did he grow up without a dad, but even his own father was similarly deprived. Waters' grandfather was killed in WWI when his son (Waters' father) was just two years old.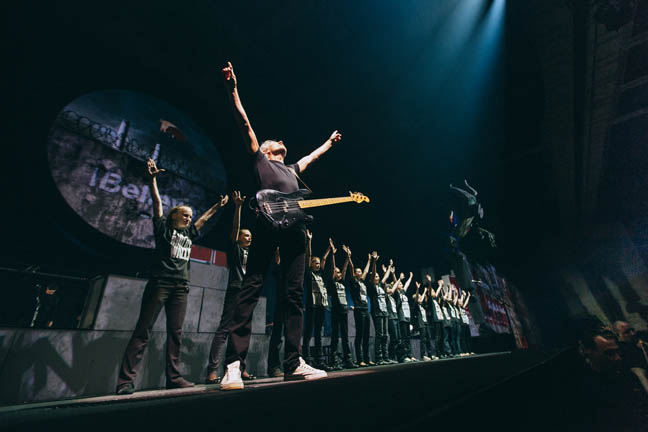 A chorus of kids for Another Brick in the Wall wear T-shirts declaring that 'Fear builds walls'.
Overall, these pilgrimage scenes are neatly edited and thankfully don't drag. There are poignant moments and some curious conversations, with a handful of odd scenes depicting moments from earlier conflicts. We even end up with a German officer sitting in the passenger seat having a smoke alongside Waters.
Back in concertland, the anti-war message is clear as The Thin Ice plays to projections of loved ones lost to conflict. As you see images of young people from the recent past appear to the lyric "Mother loves her baby…" it's a genuinely sad moment.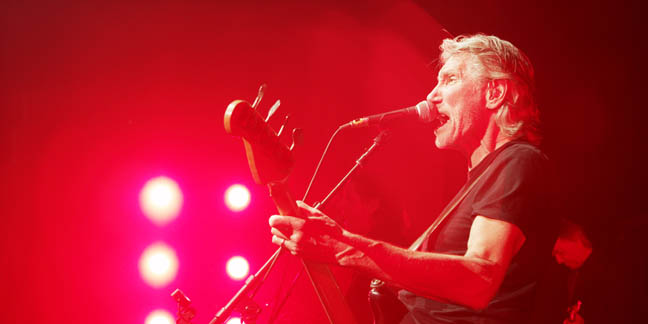 Precision bass playing from an old master
Faces from much older wars appear, each with details of age and circumstances leading to their deaths. And these aren't just faces picked at random, before the tour, fans visiting the Roger Waters web site were asked to send in the photos and details of people they had lost to conflicts. Again, this isn't played on for too long to become mawkish, but hits the right note at various times during the show.
With sincerity, Waters even does an adapted acoustic version of Another Brick in the Wall sung with a Dylanesque vocal style called The Ballad of Jean Charles de Menezes and dedicates the show to the 27 year old Brazilian, who was shot dead by police on the London Underground in 2005.