This article is more than 1 year old
SOHO solar scope spies 3000th 'sungrazer' comet
Actually, Thai spotter extraordinaire Worachate Boonplod takes the honour
One Worachate Boonplod of Thailand has been honoured as the person who spotted the 3,000th comet revealed to date by the Solar and Heliospheric Observatory (SOHO).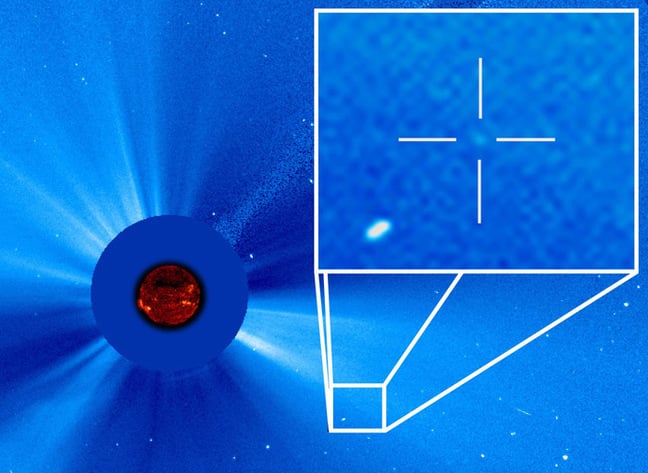 Comet 3,000 ahoy. Pic: ESA/NASA
SOHO was launched in 1995 to observe the Sun's atmosphere and solar wind. Although it was never intended for the job, the NASA/ESA spacecraft's view of the star's surroundings has made it highly effective for snapping "sungrazer" comets, which pass close to the heavenly ball of fire.
The task of pinpointing these bodies has fallen largely to "citizen scientists", who have used almost-live SOHO images to account for around 95 per cent of identifications. Boonplod has proved particularly prolific.
The stargazer said of comet number 3,000: "I am very happy to be part of a great milestone for SOHO's comet project. I would like to thank SOHO, ESA and NASA for making this opportunity possible, including other fellow comet hunters who I have learned a lot from."
Solar boffin Karl Battams, who runs the comet sighting website and narrated the above vid, explained: "The people who have found comets represent a very broad cross-section, as the programme is open to anyone who has interest. There are scientists, teachers, writers. We have even had two 13 year olds." ®