EMC's ScaleIO Node is a super-scalable server SAN that presents EMC and its users with interesting product positioning decisions compared to EVO: SDDC (EVO: RACK that was), VxRack, VMAX, VNX, VSAN, and VSPEX Blue.
Joe Tucci's company, which wants to reduce internal product competition, says its ScaleIO Node scale-out server SAN is "a fully architected, pre-validated, tested and configured solution", using "EMC commodity servers" sourced from Quanta in a packaged offering. As such, it complements the software-only ScaleIO offering.
Eech server node combines disk drives, SSDs and PCIe flash cards to create a virtual pool of block storage. The software features multi-tenant capabilities, quality of service, thin provisioning, snapshots and data protection.
There are four kinds of server chassis and they can be be mixed:
CS100 capacity storage-only node with several configurations
CC100 capacity compute and storage node
PC100 performance and compute chassis with several configurations
PF100 performance flash chassis for the most IOPS and density
The system scales from three to more than 1,000 nodes, with nodes added or removed non-disruptively. EMC claims customers will get "eight times better IOPS performance than traditional SANs" and will enjoy better power/cooling/space characteristics.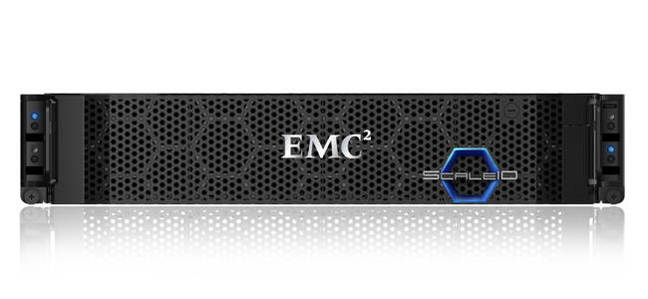 ScaleIO Node bezel
In fact EMC claims it can be "as much as 50 per cent more efficient, compared to traditional SAN infrastructures."
It is "hypervisor and OS-agnostic, offers four different chassis types to support different needs and workloads, and provides optional network and rack options."
Switches and racks can be bought from EMC or each bought separately. For example, EMC has a 1GbitE management network switch and two 10GbitE data access switches.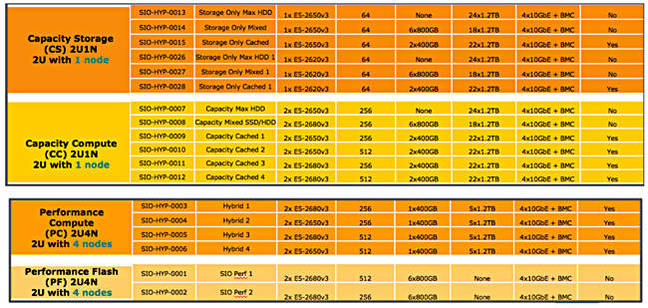 ScaleIO Node configurations – click to embiggen. Column 4 is CPU, 6 is the SSD, and 7 is the disk
ScaleIO Node servers can run applications in a normal virtual SAN way or applications can run on separate servers. EMC says you can choose the OS and hypervisor running on each server node, and select and mix capacity and performance nodes in the same system.