Bookworms' Weston mecca: The Oxford institution with a Swindon secret
The 400-year-old Uni library with a big-box backer
---
Google book deal
The Bodleian has developed alternatives to sending books from the BSF to Oxford. For £4.75, library members can ask staff to scan a section of an item and send them a PDF. A picture of Adam Ant, which had been stuck to the scanning equipment used for what is called the Scan and Deliver service, has sadly been removed.
Between 2004 and 2009, Google scanned some 300,000 out of copyright Bodleian books, mainly from the nineteenth century. As part of the deal, the library got its own copies of the scans to use in perpetuity, and these are accessible free to anyone as PDFs, through the library's online catalogue Solo.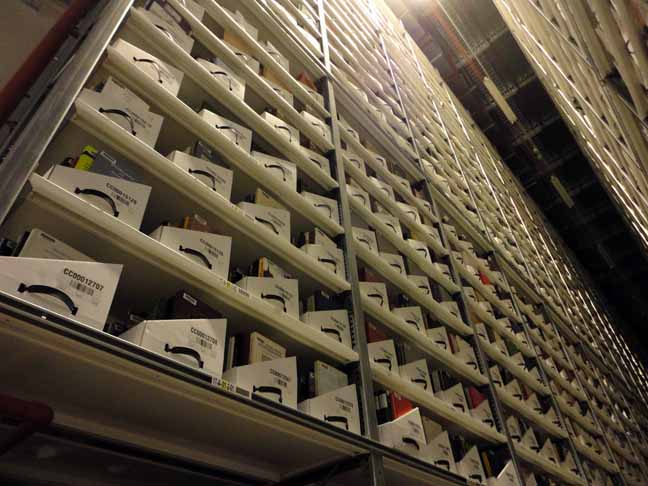 Not ivory towers, but giddy heights of learning. Photo: SA Mathieson
Solo, a version of Israeli library software firm Ex Libris' Primo, is also used to enable readers to order items from the BSF, with the actual catalogue held in a system from the same supplier called Aleph. (Like BSFIS and other software introduced in recent years, the Bodleian shunned writing its own software. It prefers, well, off the shelf.)
Solo is also used to gain access to an increasing range of e-resources; a couple of publishers are moving their legal deposit of books from print to electronic formats and more will follow.
Despite a shift to electronic publishing, the Bodleian expects to need another BSF chamber by 2020. Fortunately, it already owns 17 acres of land, providing plenty of space for expansion: "We can add more chambers as we need them," says Rodger.
And, if it eventually needs more land – this is Swindon, more relaxed on big boxes and the work they bring than Oxford.
Unlike the Weston Library, the BSF is not open to visitors. Very few library members visit; there isn't much point unless they need to go through a long series of books. But without the BSF, there would be no Weston Library, no fabulous new galleries.
Rather than reflect on this outside the BSF's local Sainsbury's, you are better served back in Oxford.
When you're done with the Bodleian, Oxford is a good place to wander around, but the university also runs some great museums. The Museum of the History of Science is on the opposite site of Broad Street to the Weston, and is open midday to 5pm Tuesday to Sunday.
Also in the city centre: the Pitt Rivers Museum (archaeology and anthropology, 10am-4.30pm Tuesday to Sunday, midday-4.30pm Monday); the Museum of Natural History, (including dodo remains, 10am-5pm daily); and the Ashmolean Museum (collections from Ancient Greece and Egypt as well as art galleries, 10am-5pm Tuesday to Sunday).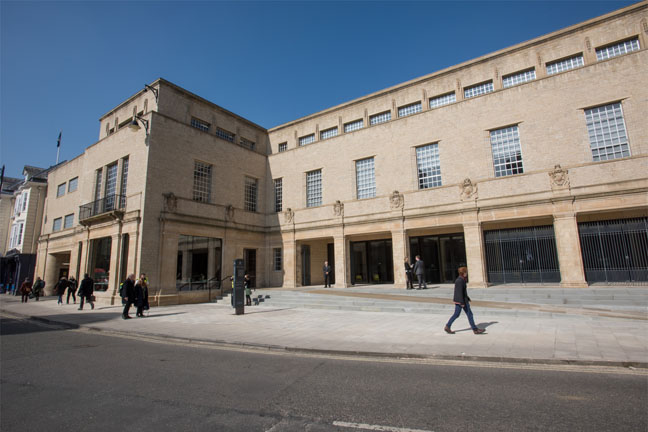 Stretch your legs in the streets around the Weston
Oxford also has the odd pub or 200. The King's Arms right opposite the Weston, with decent food and pictures of the royal family drinking and pulling pints, is a good choice. The highly historic Turf Tavern is on the right off Holywell Street.
It is one of the ironies for visitors to Oxford that they often only see the outsides of buildings that have made the City's name – those university buildings.
These are, after all, places of work.
Thankfully, the Bodleian has found a way to open up with its new Weston Library, and let those visitors in to see some of its most treasured items. Whatever you do while you're there, though, just don't forget Swindon. ®
GPS
51.7548, -1.255
Postcode
OX1 3BG
Getting there
Car: Parking in central Oxford is limited and difficult. There are a few on-street pay and display spaces on Broad Street, 50m from the Weston, but only for up slots of up to an hour. There is pay and display parking on neary by St Giles, too. It's best to park at one of the five cheap park and rides that surround Oxford and catch the bus in. Public transport: the Weston is about 20 minutes walk from Oxford's train station and about 10 minutes from the main Gloucester Green coach station.
Entry
Marks of Genius is open 10am-5pm Monday to Saturday, 11am-5pm Sunday until 20 September 2015. The Weston galleries will display a permanent collection of treasures from December with temporary exhibitions. Entry is free.
Other resources