Our elite post-pub culinary team has decided to enjoy a short break from the pots and pans and bugger off on holiday, so we'd like to take the opportunity to hand over cooking duties this week to reader Pascal Harris.
Pascal got in touch to say that, inspired by our previous neckfillers, he'd knocked up Dutch classic stamppot ("mash pot" in Brit lingo) one morning while slightly the worse for wear after a robust night on the sauce, and when he had "only two hours to get myself ready to play cricket".
We've all been there, so our correspondent is to be commended for managing to grab some snaps of his efforts. We'll leave you with Pascal while we enjoy a few liveners in a bar somewhere, at an agreeably safe distance from both the kitchen and the internet. Enjoy ...
---
Stamppot is a Dutch dish in the tradition of rumbledethumps and bubble and squeak, and there are as many different ways of making it. This is, of course, ideal – because a precision recipe would be useless in the face of a belly full of beer. Exact quantities are irrelevant: in fact, the required bill of materials is pretty much up to the diner, so it's a great way of using up whatever you have in your fridge.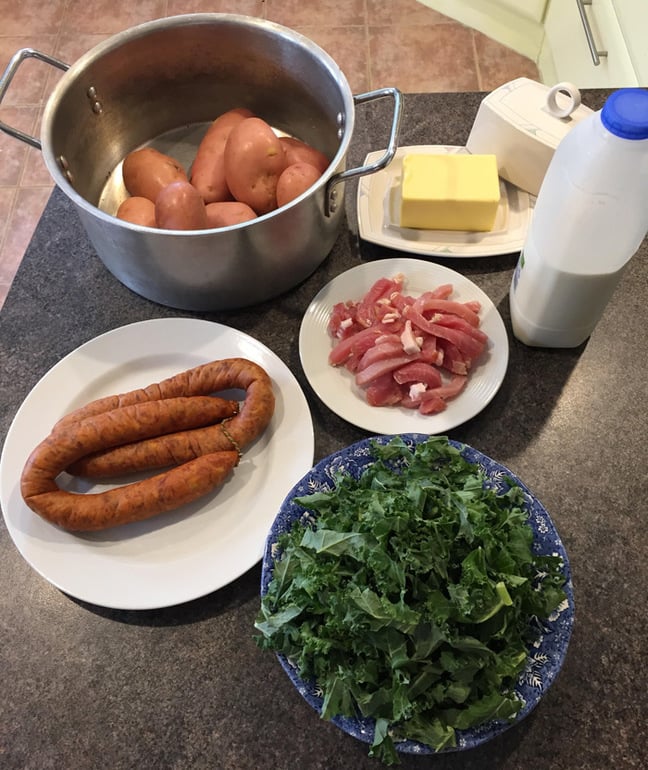 The core ingredients are floury potatoes, smoked sausage (normally rookworst) and a vegetable of some kind. I'm told that kale is traditional, but that carrots, cabbage, endive and many more are often used, either in addition or as an alternative. Bacon is often added too, and who am I to argue with that?
Chop the potatoes into chunks and the kale as finely as you like (it's all going to be mashed together later) and put them into a large pan with the sausages. Add boiling water and simmer for twenty minutes or so, until the potatoes are soft and mashable.
While the potatoes, kale and sausages are simmering, fry up the bacon to the desired level of crispiness.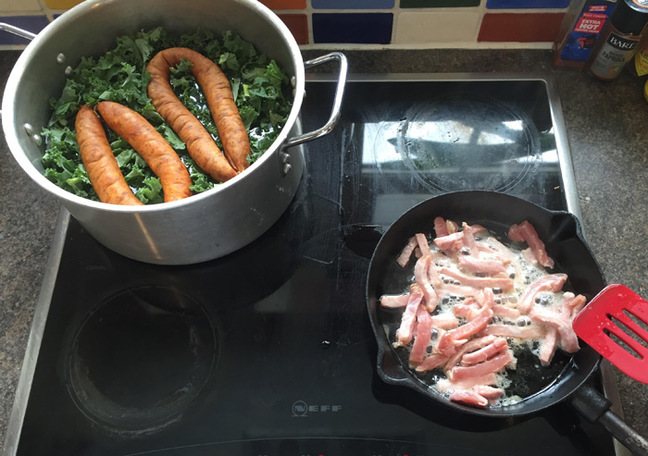 When the potatoes are cooked, fish the sausages out and place on one side. Drain the water off and then mash the potatoes and kale together with butter and a little full cream milk. It doesn't have to be purée smooth – again, you can do it to your own taste. Add the bacon and then salt and pepper as needed.
Dump a generous heap on your plate and top with the sausage. Traditionally, stamppot is served with gravy (omitted here because it seemed like a lot of faff) and sprinkled with white wine vinegar. I dolloped on chilli sauce instead because, apparently, I have no tastebuds.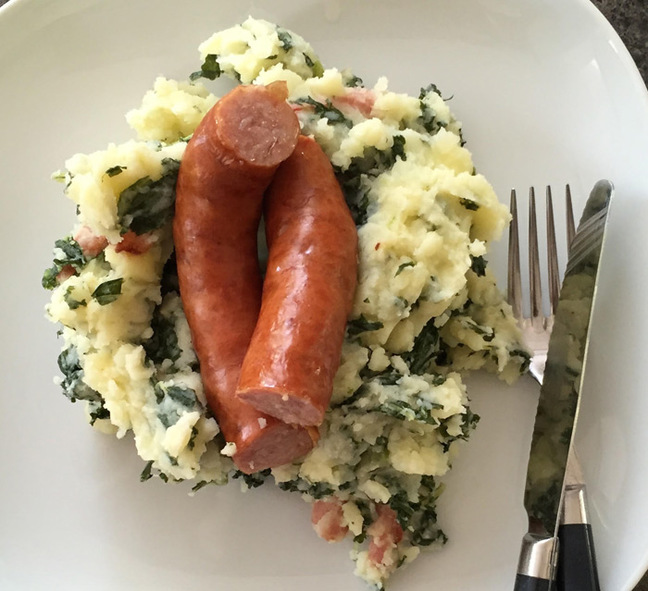 My wife pronounced the stamppot very tasty (she had a hangover too), and my boys (aged three and six) declared it to be the best thing that they'd ever eaten. That's a description they generally apply to anything that they like, so it isn't to be taken too seriously.
I made rather a lot, so I'll be eating the leftovers tonight. I thought I might try frying them up with an egg ... ®
Our previous post-pub nosh neckfillers ...