Microsoft starts to fix Start Menu in new Windows 10 preview
Yippee, now you can have 2,048 entries – but why is there a limit?
---
Microsoft has rolled out Build 10547 of Windows 10 to its "Insider" public preview testers, offering a fix to the Start menu bug that saw some shortcuts missing.
Windows Insider builds are not intended for production use, but represent the first phase in deploying updates across the various editions of Windows 10.
The most significant change is a fix for the surprising Start menu bug where users with large numbers of applications installed find some shortcuts missing. In these cases, searching Start also fails. The cut-off point seems to be 512 shortcuts.
Announcing the new build, Windows veep Gabe Aul says:
And for the Insiders that want more than 512 tiles on Start; we now support up to 2,048.
This misses the point. Windows 10 users (not just Insiders) do not want more tiles, rather they want Start to work as advertised. Microsoft's Arun Singh, posting to a long thread on this issue on Microsoft's support forum, simply says:
A fix to this issue is now available in the latest insider build 10547
It is still curious though, first that Microsoft could release Windows 10 with a major bug in this critical and sensitive feature, and second that even the fixed version apparently still has a limit.
Few users are likely to have more than 2,048 shortcuts, but it still seems too close for comfort for the application launch mechanism in a modern operating system.
According to software developer and reverse engineer Rafael Rivera the problem is a column in an internal Windows database, called TilesInView, which has space usage limited to 8192 bytes. In the update, a column called TilesInViewEx has appeared, with space usage of 65536 bytes, suggesting he is on the right track, though it does not quite add up, and exactly how this stuff works has not been revealed.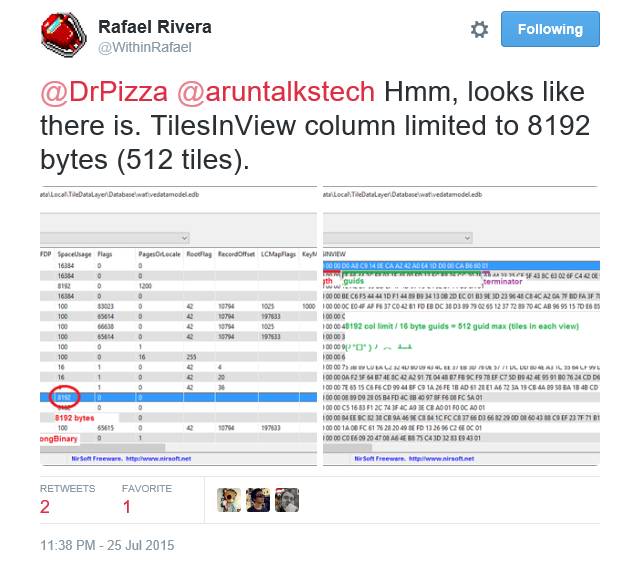 An internal Windows 10 database has a TilesInView field limited to 8192 bytes
Aul adds that "search should work more consistently now when interacting with Start" so there is hope that it will now work correctly for most users. There is also a new option to have four columns of tiles, up from three.
The Start menu issues may have come about because of Microsoft's frequent changes of mind about how it should work. Windows 8 introduced a full-screen Start menu that many users disliked, though it worked well for users who adjusted to it.
Early Windows 10 previews had another version, which has now appeared for Windows RT, but was dropped for mainstream Windows 10 in favour of a third implementation built with XAML. This makes it easy for Microsoft to share code with Windows 10 Mobile.
Another feature in this build is ORTC (Object Real Time Communications) API support in the Edge browser. This supports protocols defined by the IETF (Internet Engineering Task Force) RTCWEB working group and will enable Skype and other RTC applications to run without plug-ins.
Aul adds that there are significant improvements in apps including Photos and Xbox.®